FoxNews.com Bizarrely Connects College Student's Suicide To Obama Speech (UPDATE)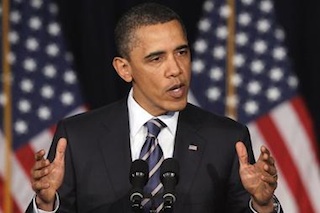 Yesterday, a George Washington University student committed suicide. While college students taking their own lives is, unfortunately, fairly common, this tragedy has gotten national coverage thanks to FoxNews.com who strangely decided to put the news story in the "American Election HQ" section of their site. Why? Because they appear to have decided to connect the suicide to the fact that President Obama was giving a speech at GW at the same time the body was discovered. It's all in a bafflingly insensitive article entitled "GWU Suicide Tragically Coincides with Obama Speech‬." (UPDATE: The link is now dead. See below.)
Just hours after the student died, the article appeared under Politics on FoxNews.com. The post is so infuriating that I think we should go through it piece by piece.
"George Washington University students in Washington, D.C. learned of a tragic coincidence of timing on their campus Wednesday. As President Obama delivered a speech on deficit reduction in the Jack Morton Auditorium, university officials were learning one of their students had committed suicide in his dorm room across campus.

Fox News has learned that the male student may have been a junior at the school and was described as solitary. He rarely left his dorm room, according to a source."
This second paragraph here is important. Fox News doesn't even know how old the kid was. They certainly don't know if his death had anything at all to do with Obama. That's purely something they made up.
"'I am deeply saddened to report that the university has been notified of the death of one of our students,' GW President Steven Knapp said in a message to his students, faculty and staff. 'The student was found in his room this afternoon at the City Hall residence hall,' he said."
Yeah, shockingly the school's president doesn't mention Obama once in the message. Gosh, doesn't he know there's a presidential election coming up?
"GWU officials tell Fox that police were notified about the incident around 2pm, which happens to be at the same time that President Obama was speaking. A source tells Fox that the incident may have occurred earlier, noting that police went knocking on the student's door at 1:30pm. As of this writing, Fox has not been able to obtain reaction from the White House."
I don't even know what to say about this paragraph. Yeah, lets nonchalantly mention that he may have died before Obama even reached the campus. And then lets drop the totally damning fact that the White House hasn't commented on the subject. How could they? After the President may or may not have caused a suicide by a student who may or may not have killed himself hours earlier, the White House should get right on sending out a statement.
"'The Metropolitan Police Department is investigating the student's death in coordination with the GW Police Department," Knapp wrote. 'At this time, we have no indication that the death was the result of a criminal act. We will release more information when it becomes available.'

DC police officials tell Fox that the death has, in fact, been ruled a suicide.

Knapp took note of the solemn moment, adding, 'On behalf of the entire university community, I would like to express our sorrow and extend my condolences to the student's family and friends.'"
How much do you want to bet that the Fox reporter asked the DC police officials if the student was "into politics?" And how much do you want to bet that the official then hung up on her.
Unsurprisingly, the Internet is already outraged. Three stories on Reddit have already popped up with one (entitled "What. The. Fuck. Fox News publishes hours after a student's suicide. Can we get this woman fired?") becoming one of the top stories on the entire site.
Just think about this. If the sources are right and this kid (emphasis on the "kid") was a junior, that means he was probably 20 or 21 years old. He might not have even been able to drink legally and now he's gone forever. And FoxNews.com is connecting it to a speech on the deficit? What on earth were they thinking? Who signed off on this post? Who edited it? Why would they ever post it? So that some snarky commenter can say, "Gee, if NObama was at my school, I'd kill myself too. LOLZ"?
This post needs to be taken down immediately and everyone involved should be banished to the nail polish beat for a good, long time.
UPDATE AT 4:40pm: As you can see by clicking the link at the top of this post, the article is now gone. This isn't surprising. As the day wore on, more and more media outlets picked up the story and it really didn't look good. (h/t Tackable)
(photo credit Charles Dharapak/AP)
Have a tip we should know? tips@mediaite.com