Fox's Baier Cancels Gig at Catholic Summit After Controversy over Group's 'Anti-Gay' Views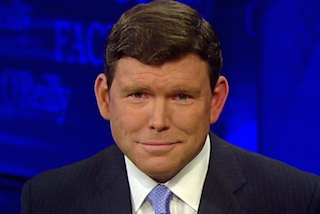 Fox News anchor Bret Baier was scheduled to speak at the 2015 Legatus Summit later this month, but after reports of that Catholic organization's strongly anti-gay views emerged, he has decided to cancel his appearance.
"Bret Baier has withdrawn his participation as a speaker at the upcoming Legatus Summit due to the controversy surrounding some editorial stances in the organization's magazine," a Fox News spokesperson said in a statement to TVNewser. "Bret accepted the invitation to speak about his book, his faith, and his son's congenital heart disease. He was unaware of these articles or the controversy surrounding them."
Baier's decision follows that of conservative actor Gary Sinise, who was also scheduled to appear at the event before announcing he would be pulling out on Monday. "When I accepted the invitation to speak at the Legatus conference about Veterans issues and share my story, I was unaware of the controversy surrounding some of the participants, and their views on personal matters," he wrote. "I don't want my mission—which is designed to be unifying—to be disrupted by these, or any controversies, and therefore have decided to withdraw."
Still scheduled to appear at the annual conference, according to the group's website, are Timothy Cardinal Dolan, Archbishop of New York and Governor Bobby Jindal (R-LA). Given the controversy that follows House Majority Whip Steve Scalise (R-LA) more than a decade after he allegedly spoke before a group connected to white supremacists, Jindal, who has presidential ambitions of his own, must be giving his appearance some serious thought right about now.
As for the group's views, an article titled "What about same-sex unions?" from Legatus Magazine in July lays out the Catholic opposition to equal rights for the LGBT community.
"It's impossible to see homosexual unions as being in line with God's intentions for marriage since the product of intercourse is not fruitful," the author writes. "Along with masturbation, fornication, and adultery, homosexuality is a selfish act that cannot fulfill the divinely ordained purpose of the reproductive powers."
An earlier piece called "Sexual 'disorientation'" characterizes homosexuality as a "disorder" that can be "cured."
UPDATE — 3:05 p.m. ET: We reached out to Gov. Jindal's press office and got this response from spokesperson Shannon Bates Dirmann, confirming he is still planning to attend the event:
"Governor Jindal looks forward to addressing the Summit and speaking about what faith means to him."
[Photo via screengrab]
— —
>> Follow Matt Wilstein (@TheMattWilstein) on Twitter
Have a tip we should know? tips@mediaite.com