Fox's Howard Kurtz Draws Ire for Report on Facebook Photos of Former Editor's Daughter-in-Law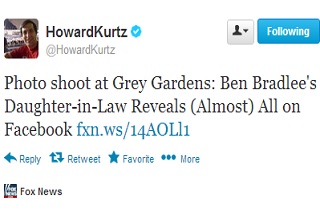 Recent Fox News hire and host of the network's forthcoming Media Buzz show Howard Kurtz is taking a beating on Twitter over a column he wrote detailing the "revealing" photos on the Facebook page of legendary (now-retired) Washington Post executive editor Ben Bradlee's daughter-in-law, Pari Bradlee. The post, entitled "Ben Bradlee's daughter-in-law reveals (almost) all on Facebook," links to Bradlee's Faceboook page, asks if the photos "go too far," and concludes that "It's a safe bet that she is about to attract a lot more friends."
The gist of the criticism of Kurtz is that the item isn't newsworthy, is an intrusion on someone who is not a public figure, and is just kind of gross. There's no news peg to the piece, and it consists of observations like these:
Her new profile picture, in a Swiss-cheese bra that leaves little to the imagination and long black leather sleeves and briefs, is so revealing that it drew a torrent of breathless comments. In another just-posted photo she is nude, shot from the back, twisting one arm behind her.

Pari Bradlee is a personal trainer and yoga instructor who gives private lessons and whose clients include many Washington A-listers. And she is marketing herself with a combination of Facebook's share-everything ethos and her famous last name.

…And while there is a light-hearted aspect to the R-rated pictures…

…The Hamptons photo shoot, conducted by an old friend, Barry Fidnick, prompted friends to post such comments as "HOTT THANG!!!!", "u look sexual" and "Turning this gay man STRAIGHT!"

And her husband obviously approves: he "liked" the picture on her page.

From one perspective, Pari Bradlee's provocative poses might be viewed as a quick way to grab attention, especially in contrast to Washington's buttoned-down culture.
The photos Kurtz describes aren't actually "R-rated," or even anything you couldn't put on the cover of a magazine, and a photograph of an exposed pinkie will elicit comments like "HOTT THANG!!!!" because it's the internet, and of course her husband "obviously approves" because why would he not, and "from one perspective," it's gross to describe "revealing" photos and then note the "private lessons."
In addition to the instant negative Twitter reaction, Kurtz has also been denounced by Pari Bradlee's mother-in-law, WaPo religion columnist Sally Quinn, in comments to Media Matters:
"I guess it's been a slow news week. I just don't know what he's up to, would I go after a friend's child? No," she said. "I don't think it had anything to do with anything. I think it was just a slow news day. There has been no personal animosity between Howie and me, none, never."

Still, Quinn said the column was hurtful.

"Why would he want to hurt me and Ben and Quinn and Pari by doing that?" she asked. "I just don't know. Ben has seen the photos…but they're not revealing."

…In a follow-up interview, Quinn said she actually feels sorry for Kurtz, telling Media Matters that she and some members of her family have been receiving supportive tweets and emails, some making fun of Kurtz and none critical of Pari Bradlee.

"It makes it look like he is an old geezer, I feel sorry for him," Quinn said.
Kurtz has been silent on Twitter since he tweeted the column, but don't expect much in the way of an apology. You'll notice that most of the negative reactions are coming from people who aren't likely to be a part of Kurtz's Fox News audience, and being attacked by others in the media isn't exactly bad for business in Kurtz's new digs.
Have a tip we should know? tips@mediaite.com