Fox's Kurtz: You Would Have to Believe Trump Is 'Insane' to Think He Was Serious on Russia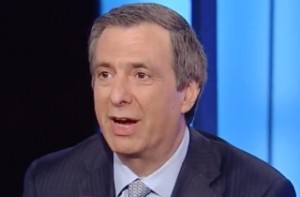 Fox News media critic Howard Kurtz cannot bring himself to believe Donald Trump was being serious about asking Russia to find Hillary Clinton's emails, because to believe that, he would have to think that Trump is "insane."
Trump claims he was being sarcastic, and his media boosters are saying the same, but if it was meant to be sarcasm, it's unclear why both Mike Pence and Paul Ryan had to do damage control after.
But Kurtz claims in a piece for FoxNews.com that he thought the line was "so obviously sarcastic" from the beginning, and despite criticism from foreign policy heavyweights and the Bush-appointed former head of the CIA, Kurtz thinks it's media bias to think otherwise:
To believe that the Republican nominee was dead serious in urging an adversary of the United States to commit or complete an act of espionage against his Democratic opponent is to believe that Trump is clinically insane.

And I do think many journalists and commentators view him as a bit unhinged. That's why this makes sense to them. They think Trump is so off the wall that it seems perfectly plausible.
Kurtz is dismayed by how the media isn't being more fair to Trump for a statement that––even if it was a joke––still alarms people.
"This is why professional politicians avoid sarcasm," he writes, "to avoid uttering words that create an uproar. But Trump delights in it, which is why his supporters love him, his detractors view him as reckless and the media can never seem to get enough."
And, not to ask the obvious or anything, but do you think anyone at Fox would be reacting this way if Hillary Clinton made a similar joke?
[image via screengrab]
— —
Follow Josh Feldman on Twitter: @feldmaniac
Have a tip we should know? tips@mediaite.com
Josh Feldman - Senior Editor