Fox's Stuart Varney Sounded Off on Michelle Obama's New Song and People Weren't Feeling It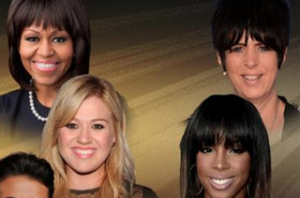 Michelle Obama is using her position as First Lady of the United States to advance educational opportunities for girls around the world. This week, she enlisted Kelly Clarkson, Chloe & Halle, Missy Elliott, Jadagrace, Lea Michele, Janelle Monáe, Kelly Rowland, and Zendaya to sing on a song that is being described by its writer (Diane Warren, maybe you've heard of her?) as "kind of like 'We Are the World' meets 'Lady Marmalade.'" Proceeds from "This is For My Girls" go to the Let Girls Learn initiative and Girl Rising.
Download it here.
Here is a snippet of Elliott's verse:
And here is what Stuart Varney of Fox's Varney & Co. sharing the news of the single's release on Facebook:
If you felt like the last line read a little differently than the rest of the post, you're not alone. Here is a sampling of some of the comments Varney got on his post.
User Stephy Hamrick has the most-liked comment, which is this one:
Nancy Reagan consulted with an astrologer while First Lady, and refused to help Rock Hudson (a friend of hers!) get into a last-chance AIDS treatment program in Paris before he died. And conservatives hold up the Reagans as if they were some kind of gift from heaven. But let an Ivy League grad and successful lawyer in her own right get on board with a girls' empowerment initiative, and people are all up in arms. Could it be that it runs counter to conservative goals to see women succeed?
She wasn't wrong about Reagan, who did drag her feet in Hudson's time of need.
Here is user Christopher Blake Clay:
"Do you think this is a good use of the First Lady's time and energy?"
That statement has got to be the most ignorant thing I have ever heard.
Would you be asking the same question if this had been Laura Bush? Hillary Clinton? Barbara Bush? Nancy Reagan? etc
I highly doubt it.
Michelle Obama is doing something wonderful to help inspire women of all colors and backgrounds…which is far more than anyone from the GOP is doing for women…cause you know, in the GOP, they like to control the minds and bodies of women.
When ordering the comments by amount of likes, it takes 13 comments before one person agrees that this endeavor is a waste of Obama's time. That honor belongs to Dixie Hurme:
Mrs. Bush and her movement in working with Afghan women is touching and patriotic. This program not so much. Self-indulgent and silly.
What about you? Do you think this is a waste of FLOTUS's time and energy?
[image via screengrab]
For more from Lindsey, follow her on Twitter.
Have a tip we should know? tips@mediaite.com