#FreeLaura Trends on Twitter After Protestor Disrupts Anti-Trump Production of Julius Caeser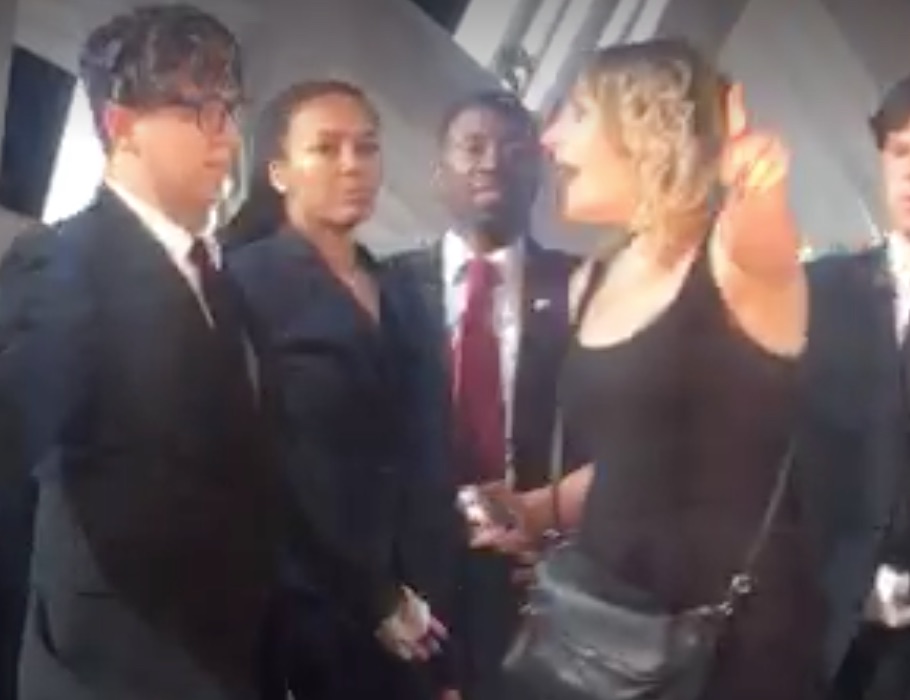 Friday night's production of the controversial Julius Caeser that depicts President Trump's assassination was halted when a pro-Trump protester walked onstage and began shouting down the actors.
Watch on #Periscope: Crashing Julius Caeser https://t.co/uegoOCdYWo

— Laura Loomer (@LauraLoomer) June 17, 2017
Laura Loomer, who documented the entire ordeal via Periscope, stormed the stage and shouted "Stop the normalization of political violence!" and accused the actors of "promoting violence against the right."
She was quickly escorted off the stage by security and was arrested by the police. She was charged with trespassing and disorderly conduct, but was let go not long after.
When all of this went down, #FreeLaura began trending on Twitter among Trump supporters.
Her name is Laura Loomer! #FreeLaura https://t.co/HCjvWhfLeF

— Mike Cernovich (@Cernovich) June 17, 2017
Woman Arrested… https://t.co/ZhAdMBTzpK

— DRUDGE REPORT (@DRUDGE_REPORT) June 17, 2017
The old right losers who are upset about what Laura did don't realize that unlike them, we fight – and that's why our guy won. #FreeLaura

— Cassandra Fairbanks (@CassandraRules) June 17, 2017
BREAKING: Laura Loomer was arrested for protesting Shakespeare in the Park. She stood up against political violence. Bravo?#FreeLaura

— Tennessee (@TEN_GOP) June 17, 2017
Leftists are demented.

Mock Assassination of President Trump – GOOD!

Protesting Mock Assassination of President Trump – BAD!#FreeLaura

— Stefan Molyneux (@StefanMolyneux) June 17, 2017
It's a sad day in America when a lady is arrested because she didn't want the President assassinated, and had the guts to say so. #FreeLaura

— Sad Pepe (@RareSadPepe) June 17, 2017
The brave Patriot is @LauraLoomer. #FreeLaura

— Mark Dice (@MarkDice) June 17, 2017
In New York you're aloud to pretend to Assassinate the President, but if you try to protest the assassination you get arrested.#freeLaura

— Collin Rugg (@CollinRugg) June 17, 2017
Shut the play down @NYCMayorsOffice why & how can this be ok the week of the GOP attack. Seriously ? #ShutdownShakespeareInThePark #MAGA https://t.co/a12x38FO9l

— KAYA (@KayaJones) June 17, 2017
Woman protesting public murder of Trump is arrested by police at Julius Ceacar in the park! https://t.co/fIwQcB4a0L

— Alex Jones (@RealAlexJones) June 17, 2017
After being released from jail, Loomer took to Twitter with a crowdsourcing link to raise money for her defense fund.
I'm out of jail, but I'm not apologetic. Thanks to everyone who is supporting me & condemning political violence. https://t.co/QkZkxu1yCj

— Laura Loomer (@LauraLoomer) June 17, 2017
Have a tip we should know? tips@mediaite.com