Gawker Writer Embarrasses Self with Baseless Attack on Jerry Seinfeld
Rothman: Gawker Writer Embarrasses Self with Baseless Attack on Jerry Seinfeld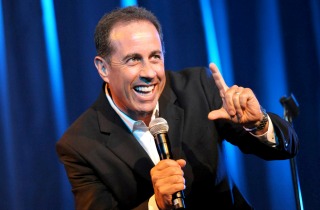 Apparently, the bar for racial insensitivity has now been lowered so much that one can be branded with the scarlet "R" for insisting that racial and gender identity issues should be irrelevant in certain circumstances. Merely asserting that merit, and not demographic identifiers which result from accidents of birth, should carry more weight is enough to offend those for whom racial and gender-based grievances suffice for a raison d'être.
Take, for example, Gawker's Kyle Chayka, who objected to comedic legend Jerry Seinfeld's response to a question the performer was asked about his web series, Comedians in Cars Getting Coffee, primarily featuring young, white men.
"It really pisses me off," Seinfeld said of the logic behind that question.
"People think that it's the census or something," he observed of comedy in general. "It's gotta represent the actual pie chart of America. Who cares?"
"Funny is the world that I live in," he concluded. "You're funny, I'm interested. You're not funny, I'm not interested. And I have no interest in gender, or race, or anything like that."
The comedian added that he believed it is effectively "anti-comedy" to impose gender or race-based quotas on standup.
"He seems to suggest that any comedian who is not a white male is also not funny," Chayka asserted, based on nothing more than his own passionate belief in the inherent necessity of gender and race-based quotas.
"Which is too bad," Chayka continued ill-advisedly, "because Seinfeld is downplaying the work of everyone from Richard Pryor and Bill Cosby to Aziz Ansari, Mindy Kaling, and Eddie Huang, who are all in various stages of their own sitcoms that just might turn out to be the next Seinfeld."
Surely, Chayka researched this post before he went off on a tear. He must know that Seinfeld called Pryor "the Picasso of our profession," or that he hosted an event honoring Cosby and called himself "not that funny" by comparison, or that Ansari regularly joins Seinfeld's exclusive inner circle of comedians. Et cetera, et cetera.
In fact, there are few working comedians who do not have a story to tell about how Seinfeld and his encouraging cohorts aided in the development of their careers.
Surely, he knew all this and merely sought to intentionally mislead his audience. The alternative would be that Chayka just did not care so much about the subject as his preconceived opinion before publishing it in what he must have known was a public forum… Which just couldn't be.
"Yes, comedy should represent the entire pie chart of America, and the glorious, multicolored diversity pie should be thrown directly at Jerry Seinfeld's face," Chayka concludes, with an appeal to violent metaphor. Maybe Chayka should have some more of the research he failed to do before posting "thrown directly" in his.
Watch the video below via CBS News/Buzzfeed:
[Photo via John Shearer/Invision for David Lynch Foundation/AP Images]
— —
> >Follow Noah Rothman (@NoahCRothman) on Twitter
Have a tip we should know? tips@mediaite.com