Geithner: Bill Clinton Once Said Killing Goldman Sachs CEO Won't Satisfy 'Blood Lust'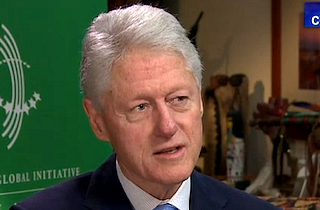 Bill Clinton has been known to be colorful at times, and in an interview with Andrew Ross Sorkin, former Treasury Secretary Timothy Geithner shares a rather strange anecdote in which he recalls Clinton saying someone could kill the CEO of Goldman Sachs in the middle of a night and it wouldn't be enough to stave the populist "blood lust" in America.
Goldman Sachs has been singled out by critics of the finance industry, crying foul about fraud and abuse. Geithner, who never worked at Goldman Sachs despite people saying he did a while back, told Sorkin he's heard complaints from people who shout at him about the financial crisis. He said someone once shouted at him, "You're one of the Goldman [expletive] who ruined the country," and he replied, "Thanks for sharing."
Geither also shared an interesting anecdote about something Clinton told him once about the national anger over Wall Street.
He cheerfully relayed a story that also appears in his book about the time he sought advice from Bill Clinton on how to pursue a more populist strategy: "You could take Lloyd Blankfein into a dark alley," Clinton said, "and slit his throat, and it would satisfy them for about two days. Then the blood lust would rise again."
So forBill Maher and anyone else who's joked about changing things by killing at least one or two bankers, you may want to rethink that.
[h/t TPM]
[image via screengrab]
— —
Follow Josh Feldman on Twitter: @feldmaniac
Have a tip we should know? tips@mediaite.com
Josh Feldman - Senior Editor