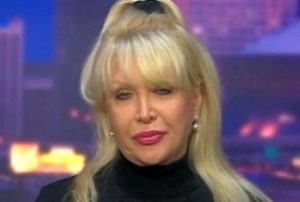 Republican presidential nominee Donald Trump will have quite the illustrious rooting section at Monday's presidential debate, if new reporting from Buzzfeed bears out. After Trump tweeted that he might invite "Jennifer Flowers" to sit in the front row next to Mark Cuban, an assistant to Ms. Gennifer Flowers reached out to Buzzfeed to say that the offer had been extended and accepted:
An assistant to Flowers told BuzzFeed News in the past she had declined such invitations, not wanting to be a "sideshow," but said she would forward the invite to Flowers.

In an email to BuzzFeed News, Judy Stell, her personal assistant then confirmed she's be attending.

"Ms. Flowers has agreed to join Donald at the debate," she said.
UPDATE – Flowers confirmed the invite via Twitter:
Hi Donald. You know I'm in your corner and will definitely be at the debate!…?

— Gennifer Flowers (@gennflowers) September 24, 2016

Earlier Saturday, Trump responded to former Secretary of State Hillary Clinton's invitation of Mark Cuban to the debate by threatening to seat Flowers next to Cuban. Trump later deleted the tweet, not because it's disgusting but so he could correct the spelling of Flowers' name. Here's a screengrab of the original: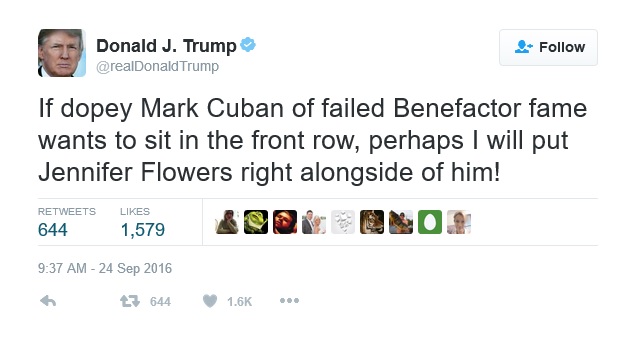 And here is the corrected one:
If dopey Mark Cuban of failed Benefactor fame wants to sit in the front row, perhaps I will put Gennifer Flowers right alongside of him!

— Donald J. Trump (@realDonaldTrump) September 24, 2016
Don't know who Gennifer Flowers is? Click here.
UPDATE – 09/25/16: Mike Pence tell Fox's Chris Wallace that Gennifer Flowers will not be going to the debate. Watch here.
Have a tip we should know? tips@mediaite.com