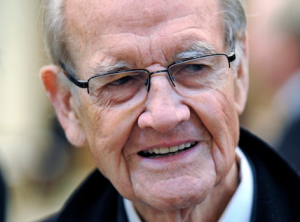 George McGovern, the former U.S. Senator from South Dakota who won the Democratic presidential nomination in 1972, has died, according to a statement from his family. He was 90.
"We are blessed to know that our father lived a long, successful and productive life advocating for the hungry, being a progressive voice for millions and fighting for peace," the family statement said. After several years of health problems, McGovern had recently been moved to hospice care.
A vocal opponent of the Vietnam war, McGovern ran against, and lost in a record landslide to, Richard Nixon in 1972. The New York Times further highlighted McGovern's commitment to progressive ideas:
To the liberal Democratic faithful, Mr. McGovern remained a standard-bearer well into his old age, writing and lecturing even as his name was routinely invoked by conservatives as synonymous with what they considered the failures of liberal politics.

He never retreated from those ideals, however, insisting on a strong, "progressive" federal government to protect the vulnerable and expand economic opportunity while asserting that history would prove him correct in his opposing not only what he called "the tragically mistaken American war in Vietnam" but also the American invasions of Iraq and Afghanistan.
McGovern represented his state in Congress for more than 20 years, both in the Senate and the House. In 2000, ABC News notes, McGovern and Sen. Bob Dole "established the George McGovern-Robert Dole International Food for Education and Nutrition Program in 2000 to provide meals to children in the United States and around the world."
Have a tip we should know? tips@mediaite.com