George Pataki On Potential Presidential Run: Peekskill Is Twice The Size Of Wasilla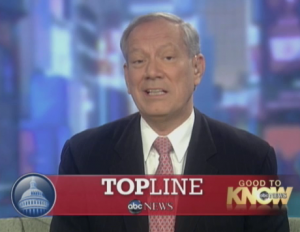 Now that the midterm election has been crossed off the list, pundits can start focusing their lenses on who will be President Obama's Republican challenger in 2012. ABC's Topline brought on former New York Governor George Pataki to discuss the type of candidate he wants: Someone who could not only win the election but effectively govern after the election. Someone moderate, with experience bringing both Republicans and Democrats together. All in all, it sounded like he wanted someone named George Pataki.
When asked directly whether he would run in 2012, he replied:
[The past two years have shown] the importance of experienced leadership — leaders who have shown the ability to govern and to move forward in a nonpartisan way, leaders who have been tested and shown their ability to get through those tests.

What I'm going to be looking at is, do we have the right people out there who have that experience, who have experienced leadership, who have been challenged and who can bring people together — not just Republicans and conservatives, but conservatives [and] Democrats. And make a decision on who else is out there, and whether or not they have those characteristics we need to be able to win this election and govern successfully.
He also hinted at running against the GOP elephant in the room, Sarah Palin, after describing his previous experience as a mayor. "It was a challenging job, mayor of Peekskill, let me assure you," he said, adding: "Twice the size of Wasilla."
However, he may have been simply teasing the Spalaskan native – he told ABC News that he would indeed support Palin were she to win the Republican nomination, albeit begrudgingly: "It was hard for me to support Carl Paladino. And I did that. So certainly if the choice is between her and President Obama, I don't think I'd have any difficulty at all supporting Sarah Palin."
Also, at one point, he accidentally pronounces John Boehner's surname as "boner." Watch that and all the other points in the ABC News video below:
Have a tip we should know? tips@mediaite.com