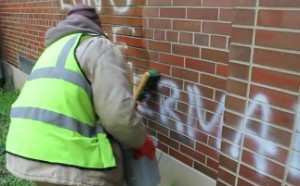 George Zimmerman, the man who claims he shot 17 year-old Trayvon Martin in self-defense, has launched a website to raise money for his legal defense, and for "living expenses."
While even attorneys for Trayvon Martin's family support Zimmerman's right to raise money for his defense, the site contains praise for "supporters" who vandalized a black cultural center at Ohio State University, and even seems to encourage more of the same.
The Frank W. Hale Black Cultural Center at Ohio State University was vandalized Thursday morning, according to The Associated Press:
The graffiti painted early Thursday said "Long Live Zimmerman."

…Ohio State President E. Gordon Gee says university police are "vigorously investigating."

"I was really outraged by this on a university that takes great pride in civility and respect," Gee told WBNS. The graffiti has been removed.

It was discovered the same day a campus rally was held for Martin and Shaima Alawadi, an Iraqi woman who was fatally beaten last month in her El Cajon, Calif., home.
Zimmerman's site contains an "Album" page that contains two photos. One is of someone holding a magic-marker "Justice For Zimmerman" sign. The other is a shot of the vandalized Frank W. Hale Black Cultural Center. The "Album" page contains this heading:
"A thousand words will not leave so deep an impression as one deed" – Henrik, Ibsen
This page is dedicated to persons whom have displayed their support of Justice for All.
Thank you,
George Zimmerman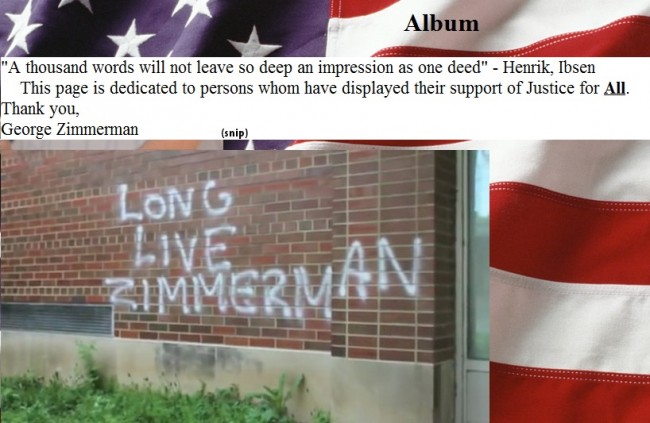 The clear intent of the page is to show appreciation for, at the very least, the sentiment expressed by the vandals. Intentionally or not, though, that Ibsen quote (I guess the couldn't find one that said "A thousand words will not leave so deep an impression as one click on my PayPal link.") is an encouragement to more "deeds."
Of the many outrages in the Trayvon Martin story, this one is relatively minor, but it raises some interesting questions. Zimmerman's supporters insist that this case is not about race, so why were Zimmerman's supporters moved to vandalize a black cultural center, and why is Zimmerman endorsing this? What other "deeds" are Zimmerman's supporters encouraged to commit in order to leave a "deep impression?"
If George Zimmerman's intent was not to encourage vandalism and other such deeds, he ought to take that picture down, at the very least.
It also bears repeating that, aside from fringe efforts that have been denounced by supporters of Trayvon Martin's family, the people who are protesting over this case express the exact sentiments that Zimmerman's page does. They want justice for George Zimmerman, and for Trayvon Martin, not revenge. On CNN's Starting Point this morning, Martin family attorney Daryl Parks criticized the tone of Zimmerman's site, but he also told Soledad O'Brien "We believe that everyone should have their day in court. he should have good representation. So him asking for money for his defense is perfectly okay. We want a good fair trial. In the end we think that Trayvon's life has to be defended, and he should defend himself because he was the person that shot Trayvon on that dreadful night."
Here's the clip, from CNN:
Have a tip we should know? tips@mediaite.com