Geraldo Rivera Looks Back At 40 Years On TV: From The Vault To The Line In The Sand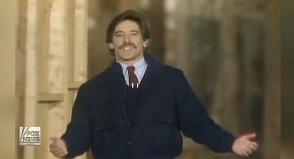 Fox News took a look back at Geraldo Rivera's 40 years on TV over the weekend, with a two-part special about the highlights and the lowlights.
His career is so vast, and unique, there were more than enough clips to chose from – from his war reporting to the moment that coined the phrase "Al Capone's vault."
Rivera was the subject of several profiles to mark the occasion. He also wrote a column about his 50 career highs and lows for FoxNews.com (h/t Johnny Dollar). From the list: "Only person ever to appear on the covers of both Newsweek and Playgirl." It's actually a jaw-droppingly diverse list. He smoked pot, legally, on camera. He interviewed Fidel Castro in Cuba. He was in an episode of Baywatch, and at the time it was the series' highest rated ever.
And the special was a great look back. He took the Capone special head-on, calling it "the highest rated but probably most embarrassing chapter in my career." As he played clips from the show, it was interesting to see how he closed it at the time: "Good night, I'm sorry, see you next time."
He also talked about the time a white supremacist threw a chair at him on his talk show, and the line-in-the-sand controversy. "This scandal was bogus, it was overblown, and I don't think any war correspondent in the field since 9/11 has been as consistently supportive of our military," said Geraldo, although he did say he owned up to his mistake at the time.
Check out the Capone section of the special (and stay tuned here at Mediaite for more about Geraldo in the coming weeks):


—–
» Follow Steve Krakauer on Twitter
Have a tip we should know? tips@mediaite.com