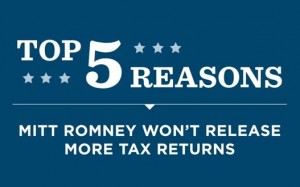 On the strength of a report by Newsweek/The Daily Beast's Daniel Klaidman, which reveals that the Romney campaign demanded ten years of tax returns from vice-presidential nominee Paul Ryan and other short-listers, President Obama's reelection campaign has renewed its attack on Mitt Romney over his refusal to release more than one full year of tax returns. In a new web video, the campaign ticks off the Top Five Reasons You Won't See Mitt Romney's Tax Returns. In addition to theirs, here are five of my own.
Perhaps I've been conditioned by David Letterman for too long, but I expected the Obama campaign's list to be something like this:
[imageviewer id=189]

The Obama campaign scarcely needed an excuse to renew this attack, but the revelation about Romney's VP vetting process was as good a pretext as any. From Newsweek/The Daily Beast's Daniel Klaidman:
As part of its vetting, the Romney campaign required at least some of the candidates on the short list—including the eventual winner of the GOP veepstakes, Ryan—to submit fully 10 years of tax returns, according to a knowledgeable source.

…In response to questions about the 10-year requirement, Romney campaign press secretary Andrea Saul declined comment.  "We do not discuss the VP selection process," she wrote in an email.
According to a knowledgeable source? Harry Reid, is that you?
Unfortunately, the Obama campaign's Top Five isn't funny, it's just kinda sad, but it does give Republican presidential nominee Mitt Romney a decent place to start in deciding what to cover in his debate prep. Here's Obama For America's Top Five Reasons You Won't See Mitt Romney's Tax Returns:
Have a tip we should know? tips@mediaite.com