Giuliani: By Standing With Bill, Hillary Clinton Proved She's 'Too Stupid to be President'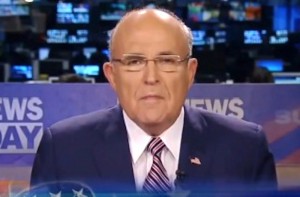 Beyond his disapproval with Lester Holt, former New York mayor Rudy Giuliani said on Monday night that Donald Trump is a "feminist" while Hillary Clinton is "too stupid to be president."
As Giuliani was leaving Hofstra University, the Trump surrogate was approached by Elite Daily reporter Alexandra Svokos, who asked him about Clinton's decision to slam Trump as a sexist during the debate. After defending Trump's treatment of and history with women, Giuliani said that Trump shouldn't have bothered restraining himself last night when he threatened to take a highly personal shot at Clinton.
Though Trump didn't say it on the debate stage, he passively told reporters that night that he had every intention of attacking Clinton by invoking former president Bill Clinton's history of sexual misconduct. Giuliani said he would've gone ahead with that attack, particularly with regard to how Mrs. Clinton stuck with her husband throughout the Monica Lewinsky sex scandal.
I asked Giuliani if Trump is a feminist #DebateNight pic.twitter.com/xWvkgVuKXV

— Alexandra Svokos (@asvokos) September 27, 2016
"I sure would've talked about what she did to Monica Lewinsky, what that woman standing there did to Monica Lewinsky, trying to paint her as an insane young woman when in fact Monica Lewinsky was an intern. The president of the United States, her husband, disgraced this country with what he did in the Oval Office and she didn't just stand by him, she attacked Monica Lewinsky. And after being married to Bill Clinton for 20 years, if you didn't know the moment Monica Lewinsky said that Bill Clinton violated her that she was telling the truth, then you're too stupid to be president."
Hillary Clinton was alleged to have attacked Lewinsky and her husband's other accusers as the two of them endured the scandal during the 90s. Trump said that he held back on stage because of Chelsea Clinton's presence, but he indicated today on Fox & Friends that he might not be so magnanimous in the future.
[Image via screengrab]
— —
>> Follow Ken Meyer (@KenMeyer91) on Twitter
Have a tip we should know? tips@mediaite.com