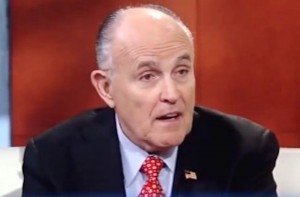 Rudy Giuliani is reportedly up for Secretary of State in Donald Trump's administration, but his foreign business ties are raising questions about the potential for serious conflicts of interest.
Recent reports have shown that Giuliani has received money for foreign consulting work, and CNN's KFILE unearthed statements Giuliani made in 2012 about his consulting work for politicians in Serbia.
Last year Giuliani said on Fox News that he was going to meet with an Iranian dissident group. The Washington Post reports that Giuliani was paid to advocate for the group while the State Department listed it as a foreign terrorist organization.
As more reports have come out about Giuliani's conflicts, comparisons have been drawn to the Clinton Foundation. Well, Giuliani, spoke with CNN's KFILE today and said that his foreign consulting work bolsters his case for being Secretary of State:
"What I did violated no laws, no regulations," Giuliani said. "It was a perfectly legal, lawful, thing to do. And also these comparisons to Hillary Clinton are nuts because I was in private business. I was not—there's no conflict with anything. I'm not a government official. I'm in private business. And finally, I wasn't selling influence. I was selling my expertise. And the services of my company."
Giuliani said he's "upset" about the attacks on his reputation and defended his work in Serbia by saying, "I didn't go in there and give a public relations address. I went there and gave a highly substantive speech on what happens to be one of the areas of knowledge which is perfectly lawful. I don't know what it is that I did wrong. Or how you can paint it is as wrong."
He insisted that he was not called upon because of his influence on the White House, but because "I am seen around the world as an expert on crime reduction, city development, and in a different part of my life an expert on [financial] securities law." Giuliani also said that he let State know about his work for Qatar back when that was going on.
[image via screengrab]
— —
Follow Josh Feldman on Twitter: @feldmaniac
Have a tip we should know? tips@mediaite.com
Josh Feldman - Senior Editor