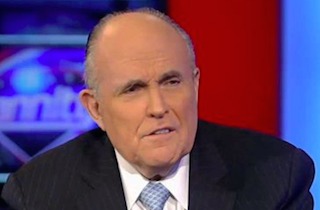 On whether President Barack Obama loves America, former New York City Mayor Rudy Giuliani (R) would say, "not so much." But on whether Republicans are right to block Obama's nominee for Attorney General, Giuliani apparently would give the same response.
Obama nominated U.S. Attorney Loretta Lynch told replace outgoing Attorney General Eric Holder, but Senate Majority Leader Mitch McConnell (R-KY) is blocking a vote on Lynch's confirmation until the Senate passes a human trafficking bill, which has been delayed while Democrats and Republicans argue over an abortion provision in the bill.
"The confirmation process has been really tremendously distorted … It's become Republicans torture Democrats, Democrats torture Republicans. Who started it, God knows," Giuliani said in a call with reporters. "But as a Republican and looking at the Constitution, I find Loretta Lynch not only to be an acceptable appointment, but I find her to be an extraordinary appointment."
Giuliani also said he contacted numerous Republican senators, including Sen. Lindsey Graham (R-SC), in an effort to bring Lynch's confirmation up for a vote in the chamber. While many of those Republicans oppose her on the grounds that she will keep President Obama's executive actions on immigration intact, Giuliani believes this sentiment could give Senate Democrats the will to block a Republican president's nominees in the future.
Giuliani, who has worked extensively with Lynch, said she is an "overqualified" nominee, and that Republicans should confirm her immediately.
The issue of Lynch's confirmation has heated up in the past few days, when Sen. Dick Durbin (D-IL) said Republicans are making Lynch "sit in the back of the bus." Both Sen. John McCain (R-AZ) and TVOne host Roland Martin roundly criticized that remark and demanded an apology from Durbin.
[Image via screengrab]
— —
>>Follow Andrew Desiderio (@forza_desiderio) on Twitter
Have a tip we should know? tips@mediaite.com