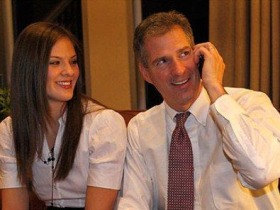 You won't see TV Glenn Beck touch the things that Radio Glenn Beck sometimes says, as he edges toward Howard Stern levels of comedy and tone.
Today he absolutely obliterated Scott Brown over the 'my daughters are available' comment, going so far as to suggest Brown could be a secret pervert.
Brown got over-excited and particularly creepy when he declared his daughters "available" during an improvised portion of his victory speech tonight. It was awkward – and it wasn't immediately cleaned up.
"Bad enough," said Beck after he played the initial comment. "Hey my two daughters on the meat market!"
If he had made the comment, said Beck, his daughters would "never have spoken to me again," and his wife? "Collection of my parts in drawers scattered throughout my house."
After Beck played more of the clip, making his own commentary throughout (including a reference to the infamous Cosmo spread), he took the whole thing to the next level. "I want a chastity belt on this man," he said, while his producer tried to justify Brown's comments. "I want his every move watched in Washington. I don't trust this guy…This one could end with a dead intern. I'm just saying, it could end with a dead intern."
Classic. The whole conversation ends with Beck issues some well-wishes to Brown. "Congratulations, let's monitor him," he said.
Maybe Beck will be Keith Olbermann's Best Person In The World tonight!
Here's the clip from the radio today (via Breitbart.TV):


—–
» Follow Steve Krakauer on Twitter
Have a tip we should know? tips@mediaite.com