Glenn Beck 'Disturbed' by Facebook Meeting: Conservative Panel Demanded a 'Witch Trial'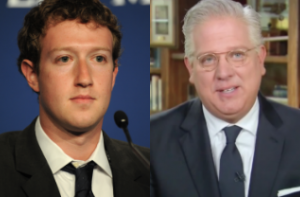 Glenn Beck met with Facebook CEO Mark Zuckerberg yesterday, and it seems now that he is less concerned with the site's potential bias against conservatives, and more concerned with his fellow panelists' demands for a guilty confession.
Beck was one of several leading media figures who visited the company for a panel discussion over evidence that the site is stifling conservative outlets on its "Trending Topics" column. While Zuckerberg has promised an investigation and some panelists walked away from the discussion relatively satisfied, Beck penned a column on Medium with complaints about how things went, but not ones you might have expected.
Even though he acknowledged the evidence and testimony of Facebook's supposed liberal bias, Beck emphasized that there was not enough signs yet to prove that the site did so on purpose, by order of its administration. Beck also described how he listened to his fellow panelists blast the site and make overzealous demands for a response to their online marketing issues:
"I sat there, looking around the room at 'our side' wondering, 'Who are we?' Who am I? I want to be very clear — I am not referring to every person in the room. There were probably 25–30 people and a number of them, I believe, felt like I did. But the overall tenor, to me, felt like the Salem Witch Trial: 'Facebook, you must admit that you are screwing us, because if not, it proves you are screwing us.'"
Beck went on to say that Zuckerberg seemed aware of the problem at the meeting, and that he wants to fix the site's employee training and algorithms for news aggregation. Beck also acknowledged that Facebook is a private company and has a right to conduct business as it wishes, even though he hopes it will maintain an open platform:
"Maybe one party will show solid evidence or a smoking gun. But until then, based on our research and my personal experience with Facebook, I believe they are acting in good faith and share some very deep, fundamental principles with people who believe in the principles of liberty and freedom of speech."
[Images via wikimedia commons / screengrab]
— —
>> Follow Ken Meyer (@KenMeyer91) on Twitter
Have a tip we should know? tips@mediaite.com