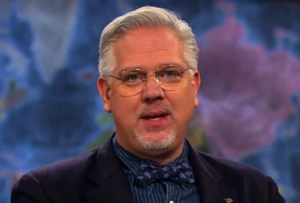 Glenn Beck has some pretty lofty goals for the future, and he opened up about them in a conversation with National Review's Eliana Johnson.
Right off the bat, Beck made his disdain of D.C. politics known, saying, "I hate politics, I always have," and "I think politics is a game, and I think people watch politics as a game, like they watch the NFL." He's lost respect for almost every politician, except for conservatives like Ted Cruz and Mike Lee, and (this might surprise you) liberals like Bernie Sanders. Beck said, "I'm sure Bernie would disagree, but Bernie and I could be fast friends because he's doing what he said he'd do."
Beck talked about his personal evolution as he went from Headline News to Fox News to The Blaze, and his ambitions aren't limited to just conservative commentary, he's aiming as high as none other than Walt Disney:
"I'm now the owner of every book written on Walt Disney in any language," he says. He doesn't know exactly how many that is. A year ago, he distributed a biography of Disney to the members of his staff. "I said when I left Fox that this half of my career is going to be shaped more by Walt Disney than anything else," he says.
Beck wants to place a bigger emphasis on culture over news, and cites how Disneyland was created to awe and inspire people to give some idea of what he's aiming for. For example, he's working on a number of movies, including the "real story of Christmas" and a film meant to "expose the truth" about Thomas Edison.
You can read the full article here.
[photo via screengrab]
— —
Follow Josh Feldman on Twitter: @feldmaniac
Have a tip we should know? tips@mediaite.com
Josh Feldman - Senior Editor