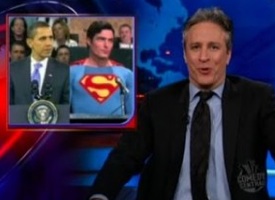 Alas, it turns out I was wrong. Glenn Beck has no intention of giving his short, quick statement on Jon Stewart's Rally to Restore Sanity and just leaving it at that. Instead he's decided to speculate that their rally is a secret plot to "activate" young voters.
Jon Stewart has shown his colors along with Comedy Central and Stephen Colbert and they are going to activate the youth to try to get them to vote with the Labor Unions apparently, I guess, I don't know. That's why it's been scheduled the weekend before, not to suppress that vote, they'll suppress it all the way up and then Jon Stewart and Stephen Colbert will activate the youth to try and get the youth to go out and vote.
Get out the kryptonite! Beware the youth! Oof, hard not to think it would have been so much smarter for Beck to stick to that first statement or at least frame Stewart's rally as some sort of 'imitation is the sincerest form of flattery' joke. This way he's practically writing Stewart's material for him.
Not to mention, theorizing that Stewart has secretly planned this date for one week before the election so he can suppress and then 'activate' voters conjointly with the Labor Unions sounds like some bizzaro version of all the ludicrous things people speculated Beck was trying to accomplish by planning his rally for 8/28. Actually it sounds like a Saturday morning cartoon: Team Restore Sanity! Activate!
Also, the far more entertaining part of this clip is when Beck says he hopes Christine O'Donnell is a Glinda-like witch, because he'd rather vote for a good witch than a Marxist.*
Look for Team Activate t-shirts coming soon! Listen below. [H/t Media Matters]
Have a tip we should know? [email protected]