Beck On Stewart: "If I Were In His Position, I'd Be Doing A Lot Of The Same Things"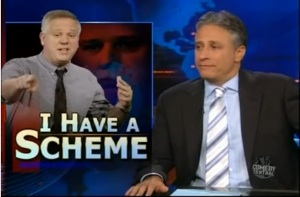 In a lengthy, revealing and wide-ranging profile of The Daily Show host Jon Stewart in this week's New York magazine, Chris Smith got an inside look at the frenetic process of putting together a 30-minute episode of the comedy/politics show.
He also heard from some in the media Stewart covers, including Brian Williams and Glenn Beck.
Williams and Beck seem to envy the freedom of honesty Stewart has. "Jon has chronicled the death of shame in politics and journalism," says Williams. "Many of us on this side of the journalism tracks often wish we were on Jon's side. I envy his platform to shout from the mountaintop. He's a necessary branch of government." And Beck, a frequent Stewart target, agreed – to some extent.
Jon Stewart is very funny, and if I were in his position, I'd be doing a lot of the same things. In fact, a lot of the jokes I've heard before, either from my staff or myself. He takes things out of context (no worse than most of the other mainstream media) and is more interested in being funny than trying to actually understand the key messages in [my] show … But I don't think he's looking for a Pulitzer.
The rumored "big announcement" about a Beck-like political event held by Stewart and Stephen Colbert was mentioned briefly. "There's discussion of a possible Stewart-Colbert public event, a parody of Beck's 'Restoring Honor' rally," writes Smith. "'Maybe we would do a 'March of the Reasonable,' on a date of no particular significance,' Stewart says."
Smith also gives a look into Stewart's print and online daily news consumption, which includes "the New York dailies" but also "Talking Points Memo, Andrew Sullivan, maybe the blogger Allahpundit," of Hot Air (quite a shout-out!).
Check out the full profile here.
Have a tip we should know? tips@mediaite.com