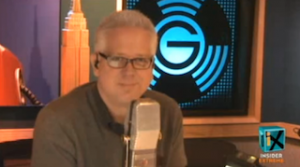 Meghan McCain took part in a new public service announcement promoting awareness of the dangers of skin cancer. In order make the point that being outside without sunscreen is like being naked, the provocative video features all of the female participants suggestively appearing naked. However, such a suggestion about McCain was enough to make Glenn Beck lose his lunch . . . repeatedly.
Beck's radio show often leans more towards being comical, but already Meghan's mother, Cindy McCain, made it clear that she's not laughing. Beck just returned from Israel and Beck claimed he was starting to feel sick. Beck's radio sidekicks wondered if it was the flight or the Middle East water that may have harmed Beck, but any time they mentioned the name "Meghan McCain" Beck would simulate more vomiting. Beck admitted the shots of Meghan in the video were "luscious." He joked that maybe he was getting sick from too much of a good thing or maybe it was because "just try to imagine John McCain naked with long blonde hair."
Before Beck's review, Meghan confirmed that she was not actually naked for the filming of the video. And now after Beck's commentary, Cindy has responded:
I'm so glad Glenn Beck is leaving Fox. Enough vitriol and hate. Glenn you are no rodeo clown. They are decent and nice. You aren't.
It seems Beck's advice about how Meghan should wear a burka from now on to be extra safe didn't go over too well. Regardless, the message Beck received from the PSA was to "put some extra clothes on," so whether the taunting was too mean-spirited or not, there is definitely heightened awareness now for the dangers of being "naked" in public.
Listen to the clip below from The Glenn Beck Program:

Have a tip we should know? tips@mediaite.com