Glenn Beck: Was Saudi National Detained By Boston Police Involved In Boston Bombing?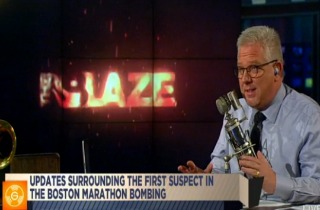 Conservative radio host Glenn Beck told his audience with certainty on Monday that the Saudi national who was detained in the immediate wake of the Boston bombings last week, Abdul Rahman Ali Alharbi, was involved in the attack on the Boston Marathon. Beck said that sources tell him that the Saudi was marked by U.S. officials as a likely violent extremist. He added that this event, in combination with meetings between ranking officials American federal government and Saudi authorities, raise troubling concerns.

RELATED: GOP Rep Warns Against Immigration Reform, Speculates That Boston Attacker Was Saudi With Student Visa
Beck began by saying that the media and the government have engaged in an effort to discredit the claim that a Saudi student in America on a student visa who was detained by authorities last week was involved in the attack on Boston.
"I think it would have been much better if CNN, ABC, and NBC would have broken this," Beck lamented. "And I also think it would have been much better if the federal government would have come out."
He said that they have both sources and documents confirming that there are details about the Saudi student's story that are troubling. "Now, the government is out-and-out lying to you," Beck charged. "They are engaging in a disinformation campaign to discredit and destroy."
"While the media continues to look at what the causes were of these two guys, there are, at this hour, three people involved in the bombings in Boston," he said. "The first one is the one we are going to address."
Beck says that an event file was established for Alharbi and identified as a likely extremist. Beck said this was clear from his "212 3B" status. Beck said that this is the NTC code for an individual who has been proven to have engaged in terroristic acts.
"We are not sure who actually tagged him as a '212 3B,' but we know it is very difficult to charge someone with this — it has to be almost certain," Beck added. "It is the equivalent in civil society of charging someone with premeditated murder and seeking the death penalty — it is not thrown around lightly."
Beck went on to say that Sec. of State John Kerry met on Tuesday with Saudi officials. This meeting was immediately followed by the FBI backing off the charge that Alharbi was involved in the attack. Later that week, Beck added, President Barack Obama also met with Saudi officials ostensibly to discuss events in Syria. "Do not believe it," Back said.
"Wednesday at 5:35 p.m. the file – the 212 3B — is altered," Beck said. "This is unheard of, this is impossible in the timeline due to the severity of the charge."
"There are only two people that could revoke the deportation order — the director of the NTC could do it after speaking with each department, the FBI, the ATC, etc. — which is impossible to do in such a short period of time, — or, somebody at the very highest levels of the State Department could do it. We don't have any evidence to tell you which one did it."
UPDATE: A U.S. News report from last Wednesday quotes a number of American officials explaining why the Saudi national was no longer considered a person of interest in the investigation into the Boston bombings.
A Saudi official told the Washington Post that the injured Saudi man "is fully cooperating with authorities." U.S. law enforcement sources confirmed to the Post that the man is now considered a witness, not a suspect. Nail Al-Jubeir, a spokesman for the Saudi embassy, told the Boston Globe that as early as Monday night U.S. law enforcement told the embassy that the man was not a suspect.
Watch the clip below via The Blaze:
An original version of this post alleged that the Saudi national was deported by American authorities last week. According to the Department of Homeland Security, this never occurred. – Noah Rothman
Editor's note: This post has been edited since its original posting – Jon Nicosia
h/t The Right Scoop
> >Follow Noah Rothman (@NoahCRothman) on Twitter
Have a tip we should know? tips@mediaite.com