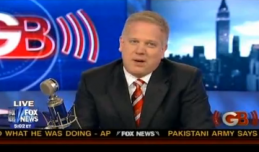 So along with the Republican base in Massachusetts (no longer an oxymoron!) Glenn Beck has clearly been energized by Tuesday's election of Scott Brown. Perhaps a bit too much. I had to listen to this twice to make sure I'd heard it right, but yes Glenn Beck actually says the only place President Obama hasn't been this last year is in Beck's bed "making sweet love" to his wife (he thinks). That was someone else.
Yes I felt so detached from Washington, it's like where's Waldo? Where's Obama? Can I get a picture of him from time to time….There were 158 Obama interviews in the last year, 411 speeches, comments and statements during his first year. I mean how much touch do you think we need from him. I mean, you know what if we could have just seen him without his shirt on…or maybe just and occasional photo of him with his wife…okay we got that too! We just didn't see him enough? HE WAS EVERYWHERE. The only place he didn't show up in was my bedroom to personally talk to my wife and make sweet love to her. At least I don't think that he did. I'm pretty sure that was John Edwards doing that, I'm not sure yet because so far John Edwards is still denying it.
Yep. One wonders if this also qualifies as the sort of remark which would land Beck's parts in various places around his house, courtesy of his wife. Video below.

Have a tip we should know? [email protected]