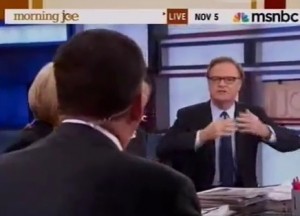 This morning's Morning Joe offered some serious left-on-left action, in the form of a heated debate between Salon's Glenn Greenwald and The Last Word host Lawrence O'Donnell. At issue was Greenwald's critique of O'Donnell's, among others, analysis of Tuesday's midterm results. Greenwald had called O'Donnell out for "blam(ing) 'the Left' and 'liberalism' for the Democrats' political woes."
The debate was so compelling, host Joe Scarborough called an audible, telling his control room not to go to break.

Greenwald argues that the midterms could as easily be spun as a repudiation of conservative "Blue Dog" Democrats, while O'Donnell seems to view them as a (perhaps unpleasant) linchpin of any Democratic majority.
Greenwald makes some excellent points about the ways in which political pundits draw conclusions, pointing out the flaws in example after example, but his "Blue Dog" analogy clouds the issue somewhat. As he explained in his column, that conclusion is equally flawed, but in bringing it up, he allows O'Donnell to take him into the weeds rebutting it.
The one point at which I agree with O'Donnell is his statement that "I'm not a liberal who's so afraid of the word that I had to change my name to 'progressive.' "
The re-branding of "liberals" into "progressives" has always aggravated me, as it seems to validate the notion that "Liberal" is somehow a dirty word. However, I don't know that Greenwald has ever done this, and if he has, it's probably an adoption of the now-popular parlance, and not an indictment of liberalism.
Have a tip we should know? tips@mediaite.com