Glenn Greenwald Rips 'Shoddy Journalism' About Him In WaPo: 'Spewing Falsehood-Based Innuendo'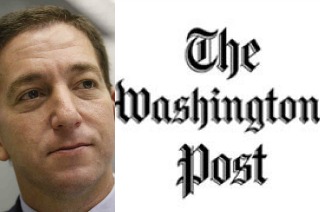 The Guardian journalist Glenn Greenwald tore into the Washington Post and reporter Walter Pincus on Wednesday over an article which alleges that Greenwald and Wikileaks founder Julian Assange directed National Security Agency leaker Edward Snowden to get work with the NSA and Booz Allen in order to access and reveal American intelligence gathering practices. Greenwald slammed Pincus' "frenzied and inane conspiracy theory," attacked the Post for not correcting errors in that story, and observed that this is an example as to why "establishment venues" like the Post are held in "such low esteem."

In The Guardian, Greenwald lays out the case against Pincus and the Post, attacking them for debasing the practice of journalism by publishing "idle speculation, rank innuendo, and evidence-free accusations, all under the guise of 'just asking questions.'"
But shoddy journalism from the Washington Post is far too common to be worth noting. What was far worse was that Pincus' wild conspiracy theorizing was accomplished only by asserting blatant, easily demonstrated falsehoods.
RELATED: Mediaite's Tommy Christopher And Glenn Greenwald In Tense Twitter Brawl Over Snowden
Greenwald lamented a variety of factual inaccuracies which he endeavored to inform the Post about so they could be corrected. Despite his warnings, they remain uncorrected. "What kind of newspaper would allow claims they know to be false to remain uncorrected for 15 hours?" Greenwald asked.
The lengths to which some media outlets in this case have gone to assist the US government in trying to criminalize the journalism we've done has been remarkably revealing. But the willingness of the Post to aid in this effort by spewing falsehood-based innuendo, which they then permit to remain hour after hour even while knowing it's false, is a reminder of how ill-advised it is to trust what you read in that establishment venue, and is a vibrant illustration of the reasons such organizations are held in such low esteem.
Read the post via The Guardian
> >Follow Noah Rothman (@NoahCRothman) on Twitter
Have a tip we should know? [email protected]