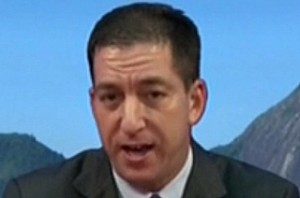 When Glenn Greenwald broke many stories about NSA surveillance, he did so for the British-based newspaper The Guardian. He left to start a new independent journalistic enterprise, but the paper is capitalizing on its moment, so to speak, with a book written by foreign correspondent Luke Harding called The Snowden Files, telling the story of the NSA leaker who risked everything to expose what the government has been up to in secret. It's framed as a detailed insider account of Snowden going public, but as far as Greenwald is concerned, it's all a load of crap.
In an interview this week with the Financial Times, Greenwald opens up about not just his work, but his style. Geoff Dyer, who sat down with Greenwald, admitted he was surprised that he's "charming" in person, in spite of his "dismissive, almost bullying approach to debate." Greenwald, however, embraces his reputation in the Beltway press and even considers it a badge of honor.
And while he says he left The Guardian "on good terms" and praised how brave they've been in "continuing to publish," he is not at all happy about Harding's book.
"It is a bullshit book," he says. "They are purporting to tell the inside story of Edward Snowden but it is written by someone who has never met or even spoken to Edward Snowden. Luke came here and talked to me for half a day without [my] realising that he was trying to get me to write his book for him. I cut the interview off when I realised what he was up to."
He says he also didn't like how The Guardian used Julian Assange only to turn around and become his chief demonizer.
[h/t TPM]
[photo via screengrab]
— —
Follow Josh Feldman on Twitter: @feldmaniac
Have a tip we should know? tips@mediaite.com
Josh Feldman - Senior Editor