'God Doesn't Care How Smart You Are': Tucker Carlson Reveals All in New Interview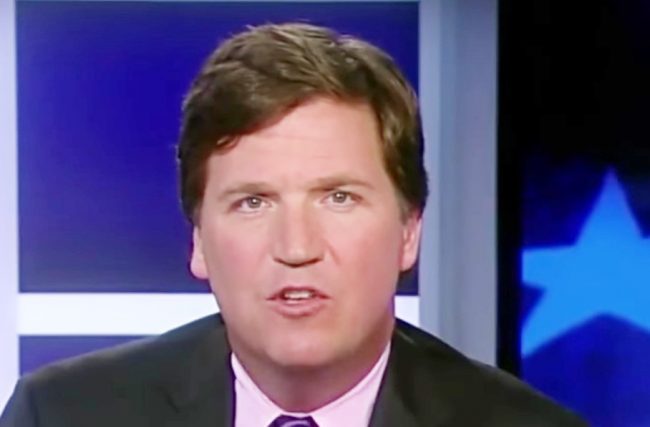 In Tucker Carlson's Atlantic profile, the Fox News host went over a lot of things, but focused keenly on intelligence and morality.
He spoke almost lovingly about his neighbors in Washington, D.C., calling them "wonderful," unfailingly "nice," "some of [his] favorite people in the world." Still, he had a few criticisms for the group, made up of lawyers and other affluent liberals. He told McKay Coppins that the elite consensus should be "reflexively distrusted." Then, he said this:
Look, it's really simple: The SAT 50 years ago pulled a lot of smart people out of every little town in America and funneled them into a small number of elite institutions, where they married each other, had kids, and moved to an even smaller number of elite neighborhoods. We created the most effective meritocracy ever. But the problem with the meritocracy [is that it] leeches all the empathy out of your society … The second you think that all your good fortune is a product of your virtue, you become highly judgmental, lacking empathy, totally without self-awareness, arrogant, stupid—I mean all the stuff that our ruling class is.
Liberals putting a flag in the moral high ground was an annoyance he mentioned a few times. He expressed frustration with liberal friends who learned nothing from the victory of Donald Trump besides "what happens when you let dumb people vote."
On that, he vented, "Intelligence is not a moral category. That's what I find a lot of people in my life assume. It's not. God doesn't care how smart you are, actually."
Ultimately, intelligence and morality became the themes of the interview. When asked what the country needs right now, he said, "Putting smart people in charge of things is fine, but what you really want is wise people."
He backed that up by quoting his father: "The beginning of wisdom is to know what an asshole you are."
Read the whole thing here.
[image via screengrab]
——
Have a tip we should know? tips@mediaite.com