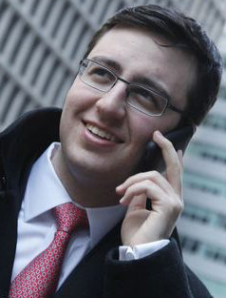 Last May, I wrote something prescient about Eric Kuhn. In a piece titled "CNN's Justin Bieber of Social Networking," I took it a little more old-school and described Kuhn, CNN's Audience Interaction Producer, as "the social media equivalent of Larry Levy." For those who don't remember the movie The Player, Robert Altman's delicious and dark Hollywood comedy, Larry Levy is the smooth-talking, shades-wearing, convertible-driving, ultimate Hollywood power player.
Cut to today: Kuhn, the 23-year-old wunderkind who went from a super-eager college kid somehow landing major media luminaries for his Hamilton College radio show to a resume filled witha high-octane initals like NBC, CBS, the NBA and CNN, is leaving it all behind for the sunshine and palm trees of L.A., where he will be joining United Talent Agency in Los Angeles as their newest social media and digital maven, working across all their divisions from TV to  movies to old-fashioned oddities like books.
It is a new position created by UTA specifically for him. Welcome to the 21st century, kids.
Here's the memo from CNN's Senior Executive Producer of Integrated Programming Alex Wellen:
Friends!

Our colleague Eric Kuhn has an exciting opportunity to work with United Talent Agency in Los Angeles.  At UTA, he's going to help its clients plot out social media and digital strategies.

Eric has been a force over the last year, helping spearhead the Tweet Suite during our LKL Help Haiti coverage, launching partnerships with Foursquare and Gowalla around our TV and Web programming as well as lending support to the live streaming  premiere of John King USA on CNN.com.  With tons of contributions to The Ticker and CNN.com, he's also introduced many of us to social media, kicking off dozens of successful Twitter careers.
There will no doubt be many who are floored at the move – Kuhn has been making making tracks in (and across) the New York media scene that have not gone unnoticed, which is how he gets shout-outs from Ryan Seacrest, was relied on by Katie Couric and Larry King, calls the NBA's David Stern a mentor, and  got namechecked in Jon Klein's farewell memo. But perhaps the signs were there early on: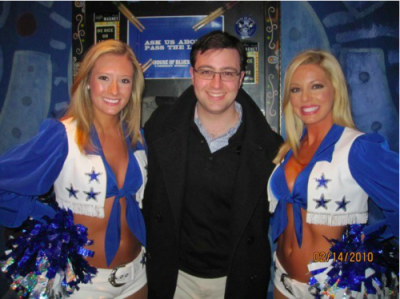 First rule of social media: Watch who you give access to your Facebook account. (Sorry Eric!) The second rule is, I guess, to think ahead when you put your employer's name in your Twitter handle (@KuhnCNN is now just @Kuhn). Today is his last day at CNN — which you'd know if you follow him on Foursquare. No doubt all his colleagues will be happy to stay in touch, as am I, because – as I said back in May – we all know that someday we'll all be working for him. Actually, it's more because he's a really terrific kid (can I still say kid Eric?) and for an evolving world of old into new media, his success has got a lot to teach us. Congrats, Eric!
Learn more about Eric here. Don't feel old. Okay, feel old.
CNNer is Hollywood Bound [FishbowlDC]
Related:
Eric Kuhn, CNN's Justin Bieber of Social Networking [Rypple.com]
McCain, Snooki talk tanning on Twitter [CNN Political Ticker]
Eric Kuhn: My Ode To 2008 [HuffPo]
Gone Hollywood [Supertramp]
Have a tip we should know? tips@mediaite.com