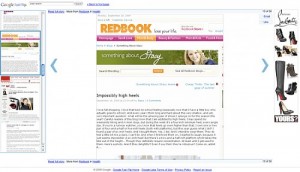 Google has just announced new efforts to help magazine and newspaper publishers with a new search service that displays results in the style of a "virtual magazine". The program is called "Fast Flip" and will launch with featured content from The New York Times, The Washington Post and the BBC. The concept aims to replicate the experience of browsing a printed publication, with readers pressing next page to be instantly "flipped" on to the next item of content, with revenue share built into the experience.
The new-look news website, dubbed Fast Flip, will pull in content from more than 40 publishers and aims to make reading articles online a more "engaging" experience, said Google.
The Telegraph reports:
Revenue generated from the adverts served alongside the article will be split between Google and the relevant publisher, with content providers taking the "majority" of the revenue, according to a Google spokesman.

Josh Cohen, a business product manager at Google, said that Fast Flip, which will be available as a test service from the Google Labs section of the search giant's website, will aggregate content from dozens of US websites, newspapers and magazines that have opted in to the service, including the New York Times, the Washington Post and Newsweek.

Users can either browse through articles based on the most recent, most viewed or most recommended stories, or search for articles by topic or keyword. Clicking on an article takes the user directly through to that publisher's website. Fast Flip will also be available on Apple's iPhone and handsets running the Google Android operating system, enabling users to continue reading features, opinion pieces and news stories while on the move.
A preview of the service can be viewed at Google Labs "Fast Flip" Section.
Have a tip we should know? tips@mediaite.com
Colby Hall - Founding Editor