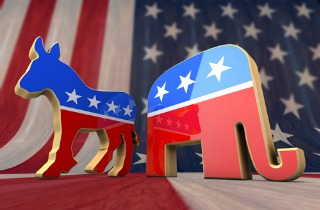 The GOP took its first lead in the generic congressional ballot for the 2014 midterm elections, sweeping all six major national polls of likely voters this week.
The RealClear Politics average now shows Republicans ahead by almost four points, with one poll noting a spread of almost seven points in favor of the GOP.
The Democrats swept every poll as recent as late July, but that tide has turned. As HuffPost Pollster shows, mid-August was when the GOP took the lead in national House races.
A Pew Research Center poll released on Friday also shows the GOP has an advantage over the Democrats in terms of voter engagement, which is none too surprising to politicos who note that Republicans tend to turn out in higher numbers for midterms and also have an edge over the Democrats this cycle in terms of motivation.
The switch among pollsters to question likely voters instead of registered voters also works to the GOP's advantage for the reasons of voter engagement and motivation, on which the GOP holds a clear advantage.
The Pew poll also noted that Obamacare is still as unpopular as it was before, and the lead Republicans had at this point in the 2010 midterm election cycle was a few points higher than it is today.
And as our contributing columnist Joe Concha noted last week, it would be a safe bet to expect the news media to lead their election coverage with, "a new poll out today shows…"
[h/t The Fix]
— —
>> Follow Andrew Desiderio (@forza_desiderio) on Twitter
[Note: Mediaite intern Andrew Desiderio is a student at The George Washington University.]
Have a tip we should know? tips@mediaite.com