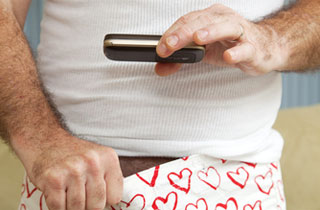 Here is a list of things that are not good: Having an affair with a married porn actress. Doing so while working as the chief of staff to a GOP congressman. Taking dick pics, and sending them to said porn actress, and then conducting a messy breakup. Because, as Rep. Steve Stivers' (R-OH) chief of staff just learned, that woman might angrily tweet that photo to your boss.
Adam Kuhn, who is unmarried, stepped down from his position after his ex, porn actress Jennifer Roubenes Allbaugh, tweeted "at least one photo of Kuhn's penis" to his boss's Twitter account, reports POLITICO with a straight face. "I hate you, AJK, you selfish pompous a—hole," she wrote, using Kuhn's initials. "Now we're even."
Allbaugh, who is married with children and often performs under the stage name "Ruby" and described herself as "a disgruntled former girlfriend," confirmed to POLITICO that she had sent the photo as "revenge" after he broke up with her. "I was trying to make him hate me, I guess," she added. (She's legitimate, if you doubt her porn bona fides: Allbaugh has starred in over 200 videos and is a member of the Adult Video News Hall of Fame.)
"Over the weekend, I was the victim of an attack on Twitter from a woman I had a relationship with in my personal life," Kuhn said in a statement. "I realize and apologize I had used poor judgement in my personal life regarding this relationship. The woman who posted this has reached out to me to apologize."
Stivers' office said that he'd accepted his resignation and declined to give a statement.
We hope this is a valuable lesson to you all.
[POLITICO]
[Image via Shutterstock]
— —
>> Follow Tina Nguyen (@Tina_Nguyen) on Twitter
Have a tip we should know? [email protected]