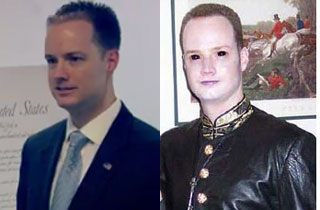 By day, Jacob Rush is a conservative lawyer from Gainesville, Florida. He works in the local Sheriff's office as a deputy, he's a devout Christian, and he's running for Congress on a platform of reducing the debt and repealing Obamacare (he even calls himself a "conservative straight-shooter").
By night, though? When the sky goes dark and the children of the night emerge from hell to bathe in the light of the moon, Rush transforms into a Gothic vampire named Lord Staas van der Winst. Or a Dark Lord named Chazz Darling. Or any of the characters he dreams up in his secret life as a member of the Mind's Eye Society, a nationwide organization of live-action role players.
SaintPetersBlog outed Rush's secret life as a daywalker today, digging through his vast online history as a roleplaying vampire member of local MES groups like the Kindred of Gainesville, wherein members take on the identities of vampires, werewolves, shapeshifters, and the like, and join together in the struggle "against their own bestial natures, hunters, and each other.
Rush "is not some teenager playing Dungeons and Dragons in his mom's basement," they noted. "This is a game for adults, with adult themes." (Dungeons and Dragons fans, you can breathe a sigh of relief now.)
How adult are we talking about? SaintPetersBlog, which is run by a widely-known Floridian political consultant, caught the stuff that Rush wasn't able to scrub from the internet, which includes the above photo of him as Chazz Darling, "one deleted photo uploaded in 2009 titled 'Put on my Rape Face'" and this message, also from Chazz Darling:
At first I thought you were just stupid and I wanted to stick my dick in your mouth to shut you up while I snorted a line off my new machete that was blessed by Rui (sic) but then I remembered that you were typing so my dick would really have to be in your hands to keep you from typing but since you are walking in Omaha that's not really realistic right now. I'm sorry, I tried.

Rae tells me that you are a Maiden, and it's your job to be kind of stupid and that I'm not supposed to have intercourse with Maidens. You shouldn't believe everything that people tell you or you're going to end up naked and sore, tied to the floor of a van marked "Free Candy."
At least he's open about it: in a statement to the Miami Herald, Rush attributed his secret LARPing life to "a deep appreciation for theatre, costumes and art," and was "deeply offended that the opposing campaign [run by Rep, Ted Yoho, R-FL] and their supporters would take a gaming and theatre hobby and mischaracterize it.
"The very definition of acting is expressing ideas and thoughts that are not your own," he wrote, pointing out that he'd disclosed his vampire LARPing hobbies to his employers and the state bar in the past. "Bottom line – There is nothing wrong with being a gamer. It's kinda nerdy, but North Central Florida deserves a legitimate debate on the issues instead of Ted Yoho's usual sideshow distractions."
Says the BDSM-loving supernatural being named Chazz Darling. (That's him above.)
Just for laughs, let's watch the super traditional campaign ad below (Bibles! Constitution! God!) and think: a vampire made this.
[h/t SaintPetersBlog via Vanity Fair]
[Chazz Darling image via SaintPetersBlog]
— —
>> Follow Tina Nguyen (@Tina_Nguyen) on Twitter
Have a tip we should know? tips@mediaite.com