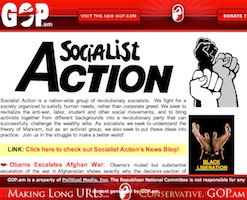 2009 definitely won't be remembered as the year that the GOP triumphantly entered social media. After launching a website that featured an animated GIF of Michael Steele and a blog by Steele originally called "What Up," a blank "future leaders" section, and a user-submitted Facebook photo page that soon got flooded with racist pictures, they've given it another crack, and launched … GOP.am, a URL shortener. How could that possibly go wrong? Plenty of ways, as it turns out.
GOP.am launched on Monday night, at roughly the same time that Facebook and Google debuted URL shorteners. Its tagline is "making long URL's…Conservative," and it heralds itself as "the first branded URL shortener."
In theory: not such a bad idea. In the press release announcing the launch, the president of the new media consulting firm (more on them later) behind GOP.am notes that "Our data suggests that users are not particularly loyal or attached to one link-shortener over another. In contrast, online Republican activists have a strong emotional attachment to the Republican brand. GOP.AM provides an excellent tool for Republican activists to demonstrate brand loyalty."
In fact, GOP.am provides an excellent tool for anybody to put a GOP-branded frame around any website whose URL is shortened. If you have ever been on the Internet, you know why this is problematic.
Within hours of launch, pranksters at Balloon Juice and Wonkette went wild with the service, using the shortener to put the GOP's frame around bondage sites and Ku Klux Klan sites, among others. Here are two fairly mild demonstrations of just how bad this can look for the GOP brand: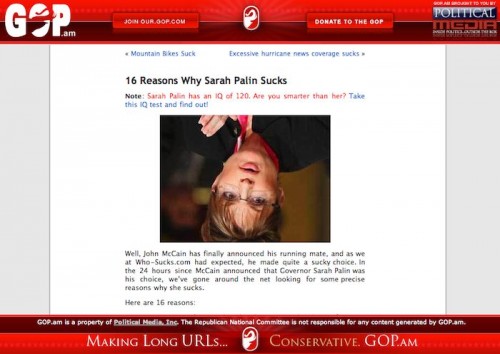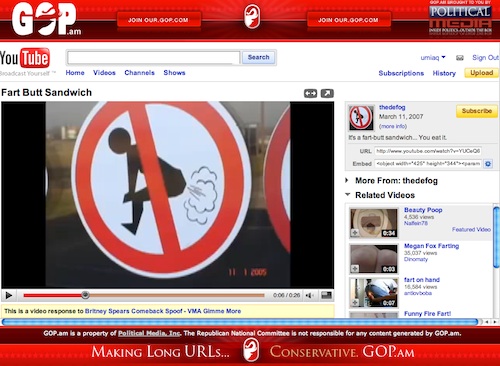 The GOP took the shortener down, and told Wired that while it respected users' free speech, it planned on putting a filter in place "to help with the high volume of what its president calls "pornographic, lewd" or "hateful" URLs being added to its service." They still have a ways to go: a quick perusal of the message boards shows that lewd and hateful GOP.am links are still very much alive.
It's easy to mock the GOP for its lack of new media savvy. So let's do it: ha, ha, the GOP lacks new media savvy.
But the real question is: what is the GOP consulting firm that's pulled the trigger on GOP.com and GOP.am thinking? Political Media, which bills itself as a "New Media consulting firm," actually does pretty impressive web design, aesthetically speaking. GOP.com and some of their other projects, like Grooms for Governor and Frank Scaturro for Congress, are quite pleasing to the eye, especially compared to other political websites.
But Political Media seems to be a bit naive about what will happen after they've built it all, and about the cleverness and malevolence of the unsympathetic forces at work on the Internet.
Consider these images from their website, which are embarrassingly easy targets for web snark. A sober-looking middle-aged man (or anyone) spending a few hours a day on Myspace.com? Wilford Brimley and his wife announcing that they like to "troll the blogosphere for a good debate?"
Have a tip we should know? tips@mediaite.com