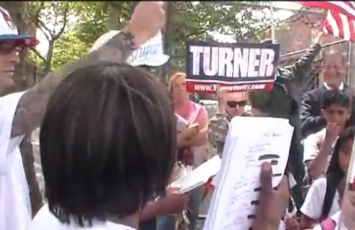 Remember the story about a New York kindergarten principal who swapped out the song "God Bless the USA" in favor of Justin Bieber's "Baby" for children to sing at their "moving-up" ceremony? It caused plenty of outrage and led to a number of Republican politicians condemning the school's decision. On Monday afternoon, one of those Republicans, Congressman and U.S. Senate candidate Bob Turner (R-NY), got in on the outrage action by holding a press conference near the school to sing "God Bless the USA" with a small choir of children waving American flags.
Well, this outrage-induced press conference created some outrage of its own, eventually spiraling into chaos after hecklers interrupted the event.
"If you're a real American, you get your facts straight first," a heckler yells out early. "Don't use the children."
"Don't make the kids do your dirty work," another heckler shouts, all before the song has even begun.
– RELATED: Principal Replaces 'God Bless the USA' With Justin Bieber's 'Baby'
As the group began meekly singing the song, a heckler interjected, "This is ridiculous. This is sad. This is so crazy."
"Excuse me sir, can you let the kids sing please?" Rep. Turner's staffer interjected.
"No!" the heckler shot back. "The kids don't even know what they're singing! They got something you tell them to say! It's ridiculous! It's sad, sad, sad."
"Burn in hell," he directed at Turner and his staff. "You will burn in hell. Shame on you."
After the song finished, hecklers began to argue with Rep. Turner's staff and the crowd. One man shouted repeatedly, "What does the red, white, and blue even mean? No one knows!"
To drown out the protestors, the children chanted "USA! USA! USA," which only serves to riles up the hecklers even more.
– RELATED: The Top 10 Songs Guaranteed to Annoy Liberals
From there on out, there is a lot of crosstalk and arguing. At one point, a random bearded man, donning a fedora hat and carrying a grocery bag, creepily strolls by to play some harmonica in the background.
Check out the whole debacle below, via Politicker:
(H/T Politicker)
>> Follow Andrew Kirell (@AndrewKirell) on Twitter
Have a tip we should know? [email protected]