GOP House Science Committee Member: Evolution, Big Bang 'Lies Straight From The Pit Of Hell'
GOP Congressman: Evolution, Big Bang 'Lies Straight From The Pit Of Hell'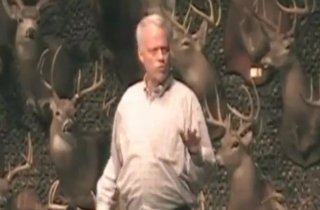 Yet another current member of the House Committee on Science and Technology has made highly questionable claims about science. Last month it was Rep. Todd Akin (R-MO) suggesting the female body had natural defense mechanisms against pregnancy in the event of "legitimate rape"; and now his colleague Rep. Paul Broun (R-GA) has suggested that some of modern science is a tool of the devil.
During a speech last month before the Liberty Baptist Church Sportsman's Banquet, the two-term congressman said:
"All that stuff I was taught about evolution and embryology and the Big Bang Theory, all that is lies straight from the pit of Hell. And it's lies to try to keep me and all the folks who were taught that from understanding that they need a savior."
Broun continued on to explain that this dastardly plot is meant to hide the true age of our Earth. "You see, there are a lot of scientific data that I've found out as a scientist that actually show that this is really a young Earth," he told the crowd. "I don't believe that the Earth's but about 9,000 years old. I believe it was created in six days as we know them. That's what the Bible says."
Broun is a physician, with an M.D. from the Medical College of Georgia and a B.S. in chemistry from the University of Georgia at Athens. He currently serves on the House Committee on Science and Technology as the chairman of one of its subcommittees on investigations.
Despite his background in the sciences, however, the congressman told the crowd that his strict biblical readings have guided his legislative career. "What I've come to learn is that it's the manufacturer's handbook, is what I call it," he said. "It teaches us how to run our lives individually, how to run our families, how to run our churches. But it teaches us how to run all of public policy and everything in society. And that's the reason as your congressman I hold the holy Bible as being the major directions to me of how I vote in Washington, D.C., and I will continue to do that."
Watch below, via The Bridge Project:

[h/t TPM]
— —
>> Follow Andrew Kirell (@AndrewKirell) on Twitter
Have a tip we should know? tips@mediaite.com