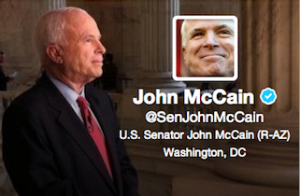 On this Inauguration day, Republicans in Congress may be having a bit of trouble figuring out where they fit into the festivities. As The New York Times reports, many of Washington's Republicans have fled the city this weekend to sunnier locales like Las Vegas, Tahoe and Mexico.
But on Twitter, many Congressional Republicans have been surprisingly vocal in their support for President Obama this morning. Lawmakers who have spent most of the last four years actively opposing practically everything the president says and does appear to be moved by the spirit of the day. Whether these warm feelings will last beyond today, we'll have to wait and see.
The president's 2008 rival issues a congratulatory message:
Congratulations to President Obama and his family on this Inauguration Day

— John McCain (@SenJohnMcCain) January 21, 2013
The 2012 vice presidential candidate also offers some kind words:
I congratulate President Obama on his inauguration, and I join the country in celebrating this American tradition. on.fb.me/V1NATD

— Paul Ryan (@RepPaulRyan) January 21, 2013
The number two Republican in the House humble brags his morning plans:
Headed to the @whitehouse with my wife Diana for coffee with the President, Vice President and their lovely wives

— Eric Cantor (@GOPLeader) January 21, 2013
A second term Arkansas rep honors Obama:
Today we honor the President as he is sworn in for his second term. Our country is blessed to have a peaceful system of governance.

— Rep Rick Crawford (@RepRickCrawford) January 21, 2013
A young Oklahoma rep expresses some disappointment, but also prayer:
Headed to the Inauguration, though I wanted a different outcome, I will pray for the President and our nation in the days ahead

— James Lankford (@jameslankford) January 21, 2013
The senator who once called Obama "stupid" seems excited today:
Mall is filled thousands as far as u can see

— ChuckGrassley (@ChuckGrassley) January 21, 2013
This last one isn't from a member of Congress, but it may be the most hopeful thing he's said about the president:
Republicans and Democrats must come together now to make America great again!

— Donald J. Trump (@realDonaldTrump) January 21, 2013
As for those major Republican figures who haven't praised the president today, it seems they're taking the "if you have nothing nice to say, don't say anything at all" approach. GOP lawmakers who have tweeted about MLK day today, but have not said anything about the Inauguration include House Speaker John Boehner and Senate Minority Leader Mitch McConnell.
—
>> Follow Matt Wilstein (@TheMattWilstein) on Twitter
Have a tip we should know? tips@mediaite.com