GOP Opponent Who Thinks Gays Aren't Guys Says It's 'Weird' Cory Booker Won't Refute Gay Rumors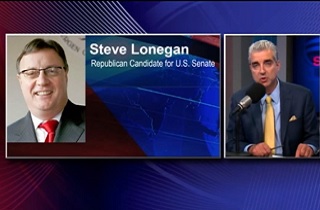 In a recent interview, Newark Mayor Cory Booker (D-Krypton) admirably responded to gay rumors by refusing to accept the premise that such rumors are damaging, which prompted Republican challenger Steve Lonegan (Snowball- Hell) to make Gov. Chris Christie's (R-NJ) endorsement of him that much more embarrassing for the 2016 hopeful by telling Newsmax's Steve Malzberg that Booker's reaction to the rumors was "kind of weird" because "As a guy, I personally like being a guy."
Lonegan has already had to deal with a super-racist tweet that was sent by his campaign, which Lonegan insisted was not racist, even though his campaign deleted it. Now, Lonegan has not only slammed Booker's über-classy response to the gay rumors and professed his belief that gay men are not "guys," he has also ham-fistedly attempted to fuel those rumors by telling Malzberg "I don't know if you saw the stories last year. They've been out for quite a bit about how he likes to go out at three o'clock in the morning for a manicure and a pedicure."
"Do you think he's gay?" Malzberg asks.
"I don't know," Lonegan replies, and later added that the manicures and pedicures were "described as his peculiar fetish," adding that "I have a more peculiar fetish: I like a good Scotch and a cigar, that's my fetish. But we'll just compare the two."
I've never tried that one, but it sounds like it would sting something awful.
As laudable as it was, Mayor Booker's full response actually didn't leave much doubt at all. Although he said he welcomed opportunities to challenge homophobia, he prefaced that question by explaining that he keeps his dating life private "Because how unfair is it to a young lady to put them in the spotlight if they haven't signed up for that yet?"
Lonegan's performance is baffling, given his ambitions. This kind of ignorance might play well with a shrinking segment of the national Republican electorate, but in a blue state like New Jersey, in a special election that he will certainly lose, all Lonegan is doing is putting his stink on other Republicans.
Here's the video, as clipped by Right Wing Watch:
[photo via screengrab]
Have a tip we should know? tips@mediaite.com