GOP Presidential Hopeful Fred Karger Talks Fox News, Iowa And Marcus Bachmann's Corn Dog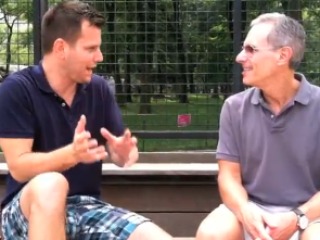 Earlier today, we told you that GOP presidential hopeful Fred Karger has filed a complaint with the Federal Election Commission against Fox News for having allegedly barred him from participating in last week's Iowa caucus debate. Comedian and frequent media contributor Dave Rubin (he's appeared on The Joy Behar Show and PBS, among other outlets) recently caught up with Karger in Central Park and chatted a bit about his complaint, as well as several other topics… including how best to be photographed eating a corn dog and Michele Bachmann's husband, Marcus Bachmann.
So, about that complaint: Karger told Rubin that Fox News "changed the rules," explaining that the network had originally posted a very clear list of requirements, which included a "1 percent average in 5 national polls." He says the network then shut him out after he presented the required poll results, giving him the excuse that the polls were not "recent enough."
Rubin wanted to know whether Karger believes that the extreme right-wing segment of the GOP is taking over the entire party and simply playing to the base at this point. "The Republican Party has completely shifted," Karger agreed (and he would know: Karger has worked as a senior consultant to the campaigns for Ronald Reagan, George H. W. Bush and Gerald Ford). He added that the result is that many have left the party because they cannot relate to the way it has transformed. And, for the record: "I call myself an Independent Republican."
So. How does an openly gay Republican feel about, say, Rick Santorum and Bachmann's views on homosexuality? Karger says he doesn't know Bachmann at all really, but that he's spoken to Santorum on several occasions and that he seems like a nice dude, overall. His own strategy, he explained, is to simply allow people to get to know him and to see for themselves what a gay Republican is like.
Rubin then posed a question evidently on many people's minds: "Marcus Bachmann… What's the deal?" Karger elected to respond in the form of a question:
Isn't he gay? I'm allowed to answer in the form of a question. I'll tell ya: I was at the straw poll, and I was approached. We had a little table set up, and a group of atheists came over, we're chatting, and they had just taken pictures of Marcus Bachmann. I said, like, "Oh my God, you've met him? What was he like? How is he?" And they said, "Oh, well, somewhere between Paul Lynde and Liberace."
The interview is split up into two parts, both presented below. Some of the audio is a smidge wonky (it was, Rubin explains, a spur-of-the-moment interview), so be sure to raise the volume or listen with headphones:
Dave Rubin Interviews President Candidate Fred Karger from Dave Rubin on Vimeo.
In the second portion of the interview, Rubin asks Karger about his thoughts on the support he's received from the LGBT community (and mentioned this very chart!) and his thoughts on Barack Obama's stance regarding same-sex marriage. Check it out:
Dave Rubin and Presidential Candidate Fred Karger (Part 2) from Dave Rubin on Vimeo.
h/t Rubinville and Six Pack News
Have a tip we should know? tips@mediaite.com