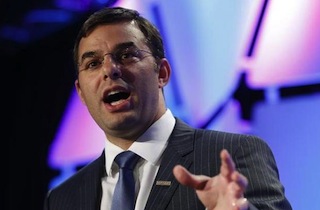 Representative Justin Amash's (R-MI) unorthodox votes are beginning to cost him: the GOP establishment, emboldened by recent primary wins like Thom Tillis' in North Carolina, has targeted Amash with a primary challenger, and fellow Michigan Republicans are not rushing to his side. But it was his colleague Rep. Devin Nunes (R-CA) who got the money quote in Thursday morning's POLITICO piece on Amash's reelection fight.

"He's been leading the charge and not telling the truth about [NSA surveillance policies]," Nunes said. "He's been fanning the flames, and it gets to the point where my assessment is this is a guy willing to work with San Francisco Democrats to protect bait fish, and at the same time he's Al Qaeda's best friend in the Congress."
Amash was not amused. "I vote less often with Nancy Pelosi, the real San Francisco Democrat, than any member of Congress," he told POLITICO. "I opposed Nunes' water bill on constitutional grounds, and his comments are unbecoming of a representative."
Retiring House Intelligence Committee Chairman Mike Rogers (R-MI) wasn't much nicer about Amash's voting record. "Once you get to know [Amash], and I know that district from being around Michigan for long enough, he's completely out of line with these people," he said. "He votes more with the Democrats than with the Republicans, and that's not out of principle, that's out of him branding himself as something different." Rogers even donated $5,000 to Amash's primary opponent.
[h/t POLITICO]
[Image via Kevin Lamarque / Reuters]
——
>> Follow Evan McMurry (@evanmcmurry) on Twitter
Have a tip we should know? tips@mediaite.com