GOP Rep.: Comey's Vague Letter Was 'Probably Not the Right Thing' To Do Before The Election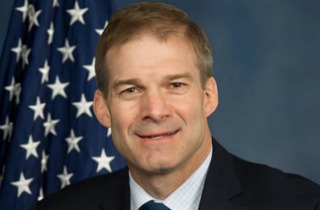 Representative Jim Jordan has now joined the conservative voices who say that James Comey's Friday letter about Hillary Clinton was not the best announcement to make so close to Election Day.
Jordan has consistently been one of Clinton's most forceful critics in Congress, having acted as chairman when the House Freedom Caucus grilled her last year over her actions regarding the Benghazi attack. The Ohio congressman joined Brian Kilmeade today on the Fox host's radio show, where said that it was "probably" wrong for Comey to make such a vague announcement about his probe into Clinton's situation.
"I think this was probably not the right thing for Comey to do," Jordan said. "This whole case has been mishandled and now it is what it is."
Jordan took time during the interview to bemoan the "double standard" that exists for Clinton, and that Comey might have found something genuinely significant to return to the investigation this late. The emails were discovered on Huma Abedin's computer as the FBI was investigating her estranged husband Anthony Weiner over his sexting scandal involving a minor.
"He probably felt in light of what he did before, he had to bring this out," Jordan said about Comey's decision to release the letter. "Quite frankly — because he had done the press conference and all the things he had before — he probably did have to send a letter to Congress like he did last week. But I would argue all of this has been wrong from the get-go in the way it's been handled."
The letter has been criticized on both political sides for being heavy on innuendo, but lacking in substance to prove any new wrongdoing on Clinton's part.
Listen above, via Fox.
[Image via U.S. Congress]
— —
>> Follow Ken Meyer (@KenMeyer91) on Twitter
Have a tip we should know? tips@mediaite.com