GOP Rep Reacts To Biden's 'Understanding' Of China's One-Child Policy: This Admin Enables 'Forced Abortion'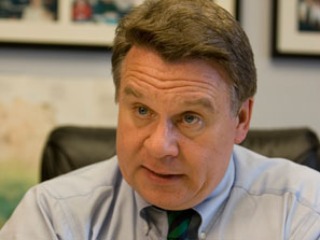 New Jersey Rep. Chris Smith (R) was a guest on Laura Ingraham's radio show today to discuss comments Vice President Joe Biden recently made regarding China's one-child policy. Biden is currently on a "charm mission" throughout Asia which, fortunately for the internet, included a visit with a Mongolian wrestler.
During a speech Sunday at Chengdu's Sichuan University, Biden told those gathered that "your policy has been one which I fully understand — I'm not second-guessing — of one child per family," before going on to list benefits of implementing such a system. Well, count Smith among the many who are disturbed by Biden's statements:
This is just exposing what this administration has been doing from day one. Just like the eight years of the Clinton administration, and that is to enable dictatorship, to enable forced abortion and forced sterilization. Let's not forget that at the Nuremburg War Crimes Tribunal, forced abortion was properly construed to be a crime against humanity. It is no less a crime against humanity today and there is our Vice President saying that he fully understands the one child per couple policy which has made brothers and sisters illegal in China.
Smith shared a particularly horrifying anecdote regarding forced abortions, highlighting how Biden's remarks go against his work aimed at helping women who have been victims of violence.
Ingraham had some advice for Biden, a fellow Roman Catholic. (We're pretty big on guilt and confession, in case you weren't aware):
We're reading the stories about how China is working with GE and there's this joint venture to build planes, and oh isn't this great, it's helping American businesses. We hear about all of those stories. What about the stories about the black sites? The reeducation camps? And the people whose houses have been burned down because they violated the one-child policy. Where are those stories? Mr. Vice President, I hope you get to confession.
Check out the segment, courtesy of The Laura Ingraham Show:
Have a tip we should know? tips@mediaite.com