GOP Rep Takes to House Floor to Air Grievances Over Being Told He Can't Grill on Office Balcony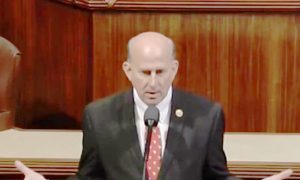 Rep. Louie Gohmert (R-TX) is apparently still upset with the Architect of the Capitol for telling him he can't use his office balcony to grill his famously tasty ribs.
Taking to the House floor, Gohmert brought up the fact that seven years ago, he was told that he had to put his part-time BBQ operation on ice.
"About seven years ago, the Architect of the Capitol, who works for the House and Senate, had decided that we all work for him and started making demands," Gohmert noted in his floor speech. "One of which was, I could not cook ribs and share them with other members of Congress, as I'd been doing for a quarter — once a quarter."
He then bragged about how networks wanted to report on his cooking but he pushed them back by saying "no, we aren't going to do a TV thing on this." Why? Because it was just between the members of Congress, that's why.
Louie Gohmert is still mad the Architect of the Capitol tried to shut down his balcony barbecue operation. pic.twitter.com/tvxjEi4fev

— JM Rieger (@RiegerReport) December 2, 2016
Gohmert offered thank to Rep. Steve Scalise (R-LA) for offering to step in to help, saying that there was something they could do to "make this work" and "make it safe."
He further commented that he's been told that his ribs are the best that people have ever tasted, mentioning that "I have enough of my late mother in me that I enjoy cooking and enjoy people enjoying what I cook."
Gohmert has a history of using House floor speeches to go on different tangents. Earlier this year, he discussed why gay and lesbian space colonies wouldn't work.
Watch the clip above, via CSPAN
H/T JM Rieger
[image via screengrab]
–
Follow Justin Baragona on Twitter: @justinbaragona
Have a tip we should know? tips@mediaite.com