GOP Senate Candidate Scolds Republican Group for 'Offensive' Attack on his Dem Opponent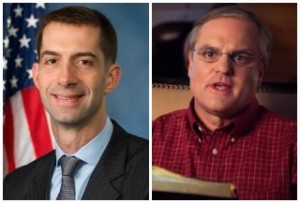 Democratic Senator Mark Pryor put out a campaign ad today touting his Christian values and calling the Bible the "North Star" that guides his life. But Pryor actually got some pushback for the religious ad from the National Republican Senatorial Committee, but the attack backfired when Pryor's Republican opponent Tom Cotton actually stood up for him against the GOP group.
Pryor's ad looks a lot like something you might see from a Republican candidate, but the NRSC's Brad Dayspring called out Pryor for touting the Bible as a moral compass when, just last year, he said, "the Bible is really not a rule book for political issues." Dayspring thought this showed Pryor to be a hypocrite.
So is the Bible Mark Pryor's compass, providing the "comfort and guidance to do what's best for Arkansas? " Or is it really not a good rule book for political issues and decisions made in the Senate? Guess it depends on which Mark Pryor that you ask.
And then, somewhat surprisingly, Cotton's campaign actually stood up and condemned the attack on their opponent.
"That is an incredibly bizarre and offensive email from the NRSC's press secretary," Cotton spokesman David Ray said in an email. "We should all agree that America is better off when all our public officials in both parties have the humility to seek guidance from God."
Pryor has been touted by the NRSC as the "most vulnerable senator in America" and they've previously attacked him as a super-liberal in a conservative Democrat's clothing.
You can watch Pryor's ad below:
[h/t The Hill]
[photo via screengrab]
— —
Follow Josh Feldman on Twitter: @feldmaniac
Have a tip we should know? tips@mediaite.com
Josh Feldman - Senior Editor