GOP Senator Who Battled Clinton Claims He 'Embarrassed' Her, Forced Her Off 'Rehearsed' Talking Points
Sen. Johnson: I Forced An 'Embarrassed' Hillary Clinton Off 'Rehearsed' Talking Points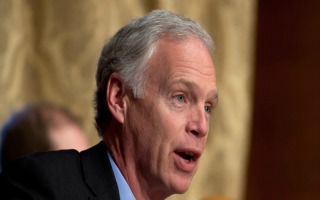 Following his contentious exchange with Secretary of State Hillary Clinton regarding her knowledge of the Benghazi attack in 2012, Sen. Ron Johnson (R-WI) spoke with BuzzFeed about the confrontation. Johnson said he thought Clinton launched into an "emotionally" charged response to his line of questioning in order to avoid delivering a substantive response. He claimed that his line of questioning may have "embarrassed" Clinton and forced her to abandon her prepared talking points.

RELATED: Hillary Clinton Goes Off On GOP Senator Johnson During Benghazi Hearings
During his portion of Wednesday's hearings, Johnson repeatedly prodded Clinton to clarify what the administration believed was the impetus for the attack in Benghazi – a YouTube video and the spontaneous protests it spawned, or terrorists. "With all due respect, the fact is we had four dead Americans. What difference, at this point, does it make?" Clinton shot back.
Johnson told BuzzFeed that he thought Clinton's animated response to his question was contrived.
"I'm not sure she had rehearsed for that type of question," Johnson told BuzzFeed Wednesday afternoon, after the Senate Foreign Relations Committee hearing. "I think she just decided before she was going to describe emotionally the four dead Americans, the heroes, and use that as her trump card to get out of the questions. It was a good way of getting out of really having to respond to me."
"I just don't think she had an answer to that," Johnson said of his ability to shake Clinton from her talking points. "Maybe it embarrassed her. Maybe she hadn't thought of it that way."
Read the interview via BuzzFeed
> >Follow Noah Rothman (@NoahCRothman) on Twitter
Have a tip we should know? tips@mediaite.com