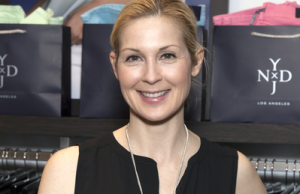 Gossip Girl star Kelly Rutherford was granted custody of her two children Sunday after a three-year international court battle. Hermes, 8, and Helena, 5, are expected to fly home from Monaco, where they have been living with their father since he was denied entry to the U.S. in 2012.
"We are ecstatic, and hopeful that Monaco will respect the California court's ruling and send the children home," Rutherford's attorney said. "It has long been our position that Monaco has no jurisdiction because Hermes and Helena, as American citizens, have an absolute right to live in their own country."
Rutherford is expected to receive sole custody and possession of the children's passports. However, It's yet to be seen if the authorities in Monaco with honor the ruling.
RELATED: Time for ​U.S.​ State Dept to Help Bring ​Actress Kelly Rutherford's American ​Kids Back Home​
In 2012 a California court awarded custody to German national Daniel Giersch after he was denied reentry into the U.S. for still-cloudy reasons. Giersch ended up settling in Monaco. As Dan Abrams put it at the time, "Amazingly, the legal question was whether the children of a loving American mother should be forced to live in a country where neither parent has citizenship because their father had done something that made him ineligible to remain in the United States." In March of this year, Mr. Abrams called on the State Dept. to help get the children back.
Giersch was supposed to seek the emigration of the children to the U.S. but no records indicated he ever did; meanwhile French courts interfered with the custody terms, and Rutherford was unable to visit her children during her most recent visit.
Watch an interview of Rutherford earlier this month from TMZ below:
[Image via screengrab]
——
>> Follow Evan McMurry (@evanmcmurry) on Twitter
Have a tip we should know? tips@mediaite.com