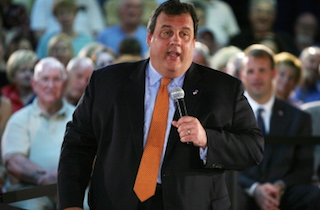 New Jersey Gov. Chris Christie (R) underwent lap-band surgery in February to aid with weight loss, according to a report today in the New York Post. Speaking about the struggle with his weight, the governor said he made the decision thinking about his wife and kids. Christie's spokesman Michael Drewniak confirmed the story to the Associated Press.
"I've struggled with this issue for 20 years," he told the Post. "For me, this is about turning 50 and looking at my children and wanting to be there for them."
While media chatter is guaranteed to hypothesize otherwise, the Post noted that Christie said the surgery had nothing to do with a potential presidential bid — that it's "much more important" than that.
"I know it sounds crazy to say that running for president is minor, but in the grand scheme of things, it was looking at Mary Pat and the kids and going, 'I have to do this for them, even if I don't give a crap about myself,'" he said.
Per the report, Christie checked into a surgery center in mid-February under a false name.
The operation included placing a silicone tube around the top of his stomach, where it restricts the amount of food he can eat at one time and makes him feel fuller, faster.

"A week or two ago, I went to a steakhouse and ordered a steak and ate about a third of it and I was full," he said of his newly tamed appetite. He declined to say how much he lost, but sources said he has already shed nearly 40 pounds.
Christie's weight has been the often made for jokes — which he, too, has partaken in. Appearing on David Letterman's show in February, the governor recited some of his favorite jokes the late-night host has made about his weight. And they even bonded over a donut, with Christie telling Letterman, if "the joke is funny, I laugh, even if it's about me."
Have a tip we should know? tips@mediaite.com