Gov. Christie Shuts Down Meg Whitman Heckler: "You Want To Yell, Yell At Me!"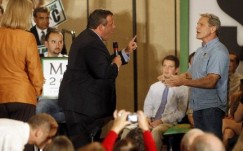 Where was Gov. Chris Christie last night when President Obama needed him. Christie was in California yesterday stumping for Meg Whitman who is running for governor of that state when someone in the crowd started heckling her. Chris Christie was having none of that folks! No one calls Meg Whitman an "Arnold in a dress" and gets away with it. From NJ.com:
"What are you hiding?" shouted Ed Buck, in jeans and a light shirt in the front row of the 400-person event. "You're looking like Arnold in a dress," he said in a reference to outgoing California Gov. Arnold Schwarzenegger.

Before Whitman could respond, Christie stepped down from the stage and got in Buck's face.

"Hey, listen. You know what. You want to yell, yell at me," Christie said, shutting down Buck as Christie's bodyguards calmly but quickly approached the two men. "It's people who raise their voices and yell and scream like you who are dividing this country. We're here to bring this country together."
Emphasis mine, because that description could apply to a whole lot of people including most of the nation's cablesphere and a solid part of the so-called Tea Party leadership and I have to wonder if this is a preview of Christie's platform should he decide to make a run for the White House in 2012. Dare to dream. One can only hope the other half of that platform is promising to always answer questions FACE TO FACE. Video below.
Have a tip we should know? tips@mediaite.com