Gov. Paul Lepage Says 'The Enemy' Are Black and Hispanic, and 'You Shoot at the Enemy'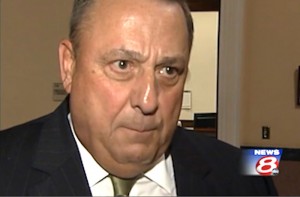 As Maine Governor Paul LePage endures fallout from controversial comments he made over the past week, he has decided to up the ante once again by apparently referring to Black and Hispanic people as "the enemy."
The governor of Maine is known for having a brusque way of dealing with people, which was on full display recently when he sent a profane, threatening voice message to a state legislator whom LePage believed called him a racist. The supposed criticism came after LePage said minority groups make up the vast majority of drug dealers in Maine, and he appeared to double down on that statement during a Friday press conference.
Suspected white supremacists governor of Maine Paul LePage stops talking in code & says Blacks are the enemy pic.twitter.com/qupifMd5Dq

— Tariq Nasheed (@tariqnasheed) August 27, 2016
"Look, a bad guy is a bad guy, I don't care what color it is. When you go to war, if you know the enemy, the enemy dresses in red and you dress in blue, you shoot at red, don't you? You shoot at the enemy. You try to identify the enemy. And the enemy right now, the overwhelming majority right now coming in are people of color or people of Hispanic origin. I can't help that. I just can't help it. Those are the facts."
Huffington Post reports that LePage also used the event to profusely deny that Maine's police engages in racial profiling. HuffPo also noted that American Civil Liberties Union of Maine said on Thursday that their research tells them that Black and White people deal drugs at similar rates.
[Image via screengrab]
— —
>> Follow Ken Meyer (@KenMeyer91) on Twitter
Have a tip we should know? tips@mediaite.com